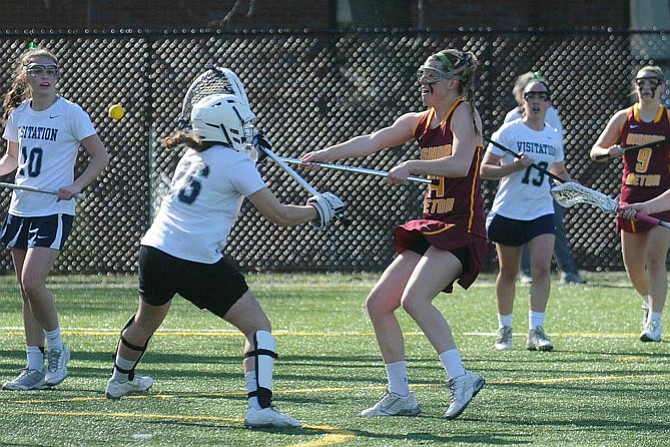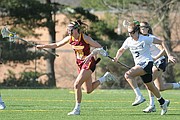 After a three-goal performance against Georgetown Visitation on Tuesday, including the game-winner with 5:44 remaining, Bishop Ireton senior Kelly Mathews tried to describe the difference between the Cardinals' outlook in 2014, and how they approach things now after winning WCAC and state championships last season.
"Last year, we were the hun... how's the thing go?" Mathews said. "Now we're the hunted. You know what I mean."
Mathews and other members of the Bishop Ireton girls' lacrosse team are still getting used to the pressure that comes with being defending champions. The Cardinals enter the 2015 season ranked No. 3 in the nation by USA TODAY after returning the majority of the team that won the school's first WCAC title and defeated national power St. Stephen's & St. Agnes for the first time in the VISAA state championship game.
Ireton opened the 2015 season on Tuesday against Georgetown Visitation, ranked No. 11 nationally by USA TODAY. The Cardinals weren't on top of their game, but pulled out an 11-9 victory in Washington, D.C.
Ireton jumped out to a 6-1 lead, but Visitation chipped away and cut the Cardinal lead to 7-6 at halftime. The Cubs tied the score at 9 with 8:02 remaining in the second half, but Mathews answered with what proved to be the game-winning goal with 5:44 left.
Ireton's Kaitlin Luzik added an insurance goal 33 seconds later.
"We all knew going into this game that we needed to prove a point that it wasn't a one-time thing," Mathews said, referring to last season's success. "We're here to repeat and do big things. It means a lot that we started off well, got into a bit of a bad scene and then came out on top. I think it's good that we showed ourselves that we can come out of tough situations.

"... I think going into last season, we weren't as sure what we were capable of, but this year we have a target on our back, so we have a lot of work to do."
What does Tuesday's season-opening victory mean?
"It means we've got a lot to learn," Ireton head coach Rick Sofield said. "We found a way to win; good teams do that when they don't play their best. ... I'm proud of them for finding a way to win, but we need to play with more poise. We have enough experience on this team where we just need to be smarter."
Kelly Larkin finished with three goals and two assists for the Cardinals.
"[Larkin was a] real catalyst for us on the offense," Sofield said. "Visi took away our feeds from behind, that was something we did well against them last year. It was obvious they game-planned for that. We have more tricks in our bag, so we went to something else and it was Kelly's chance to shine today and she took advantage of the opportunity and she did great."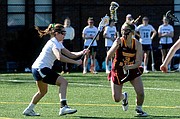 Kayla Duperrouzel scored two goals for Ireton, and Luzik, Charlotte Sofield and Lexi Ledoyen each had one. Luzik and Charlotte Sofield each had an assist.
Charlotte Sofield, the 2014 WCAC Player of the Year and University of North Carolina signee, said Ireton's defense, including the performance of sophomore goalkeeper Amelia Cole, propelled the Cardinals to victory.
"I think our defense really stepped up in this game," Charlotte Sofield said. "Our attack was not clicking as well today and our defense really made the stops that we needed. Our goalie really made key saves. Amelia had big shoes to fill — her sister [and last year's goalkeeper], Olivia, is now playing at Florida. Being a sophomore stepping up and starting is hard, and she really pulled it together for us today."
Cole finished with nine saves.
Shortly after winning last season's state championship, Rick Sofield ordered T-shirts for summer workouts. The shirts have a target on the back, symbolizing what the Cardinals would face after their 2014 accomplishments. He said Ireton has the same "six games in May" mentality, when the Cardinals try to improve during the regular season before winning three WCAC tournament games and three VISAA state tournament games.
Ireton passed its first test of the 2015 season, beating a fellow nationally-ranked team. Next up for the Cardinals is a home game against Roland Park Country School (Baltimore) at 1 p.m. on Saturday, March 21. Roland Park Country School is ranked No. 8 by USA TODAY.
"We have talked about how different it is to be a competitor when you're the one who's in the lead," Rick Sofield said. "We talk about it the context of running a race: if you're right behind the girl in the lead ... and you're staring at her back, you're tracking her and she doesn't know you're back there and she doesn't know you're coming. That's what I told them: This year, we're the ones out front and people are running us down and there's some girl out there who's working hard, who is trying to come up behind you and so you can't let up. You can't get complacent, you've got to keep going hard."