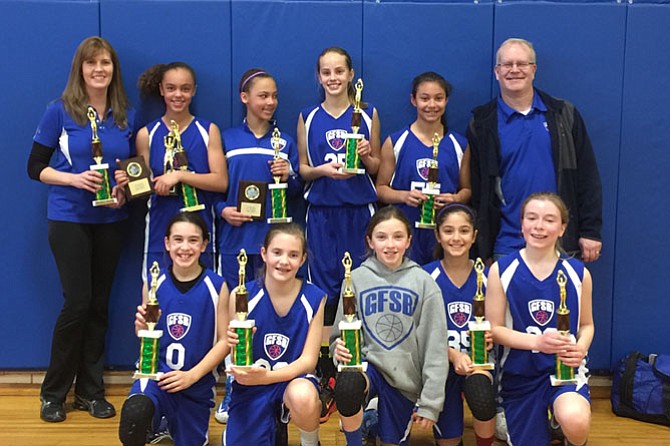 The Great Falls fifth grade girls basketball team took home the first place trophy in the Fairfax County Youth Basketball League tournament defeating Chantilly by a score of 36-32. This represents back to back FCYBL tournament championships for these fifth grade girls who reside in Great Falls, Vienna and Herndon.

Scoring was led by the Arnolie twins, Gracie and Alayna, who earned extra hardware this season when they both received All-County Most Valuable Player awards. Alayna was also recognized as the Most Valuable Player for the tournament. Casey Kerrigan and Allie Wakeman played tenacious defense while Caitlyn Shumadine set the offensive tone early in the game hitting a three pointer. Kiera Kohler led the team in blocked shots and Reese Torres crashed the boards to be one of the lead rebounders. Maya Kanaan and Annabeth Holsinger raced back to prevent any fast breaks and contributed critical baskets in the second half. Kayla Rolph was instrumental in assisting the team on the path to the Championship but was unable to attend the final game.

The team is coached by Christie Shumadine, Aric Holsinger and Harold Rolph who want to give special thanks to the Great Falls Boys fifth Grade team for scrimmaging the girls every week to improve their game. The girls finished the regular season with a 14-1 record averaging 46 points per game and holding their opponents to an average of 19 points per game. The girls now move into their AAU season with NOVA 94 Feet and are looking to up their National ranking from 11th place.