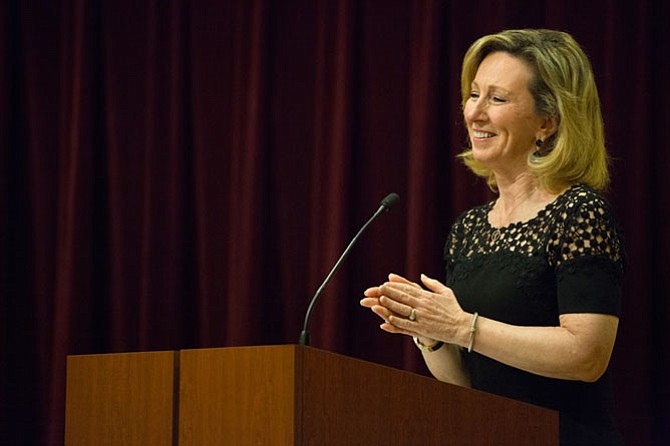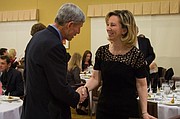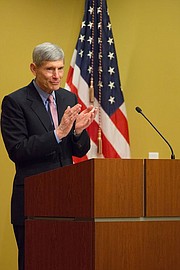 McLean and Vinson Hall Retirement Community residents joined together to celebrate Navy Marine Coast Guard Residence Foundation's 21st Annual Gala and Silent Auction on March 14.
Navy Marine Coast Guard Residence Foundation (NMCGRF), a local Washington, D.C. nonprofit, hosted its annual Gala this past Sunday. U.S. Rep. Barbara Comstock (R-10) and General Norton A. Schwartz, USAF (Ret.) both spoke at the Gala to military veterans and sponsors. The Gala's silent auction raised just over $11,000. Altogether, the Gala raised $72,000 for NMCGRF to support seniors, veterans, and wounded warriors.
The 2015 Gala was hosted in Vinson Hall Retirement Community's (VHRC) new Community Building, which opened in January of this year. Members of the NMCGRF Board of Trustees and VHRCs residents welcomed friends of the community like BB&T bank and Whiting-Turner Construction for a night of fun, food, and friendship all in support of NMCGRF. This year's Gala had its highest ever participation with more than 150 guests.
Gala sponsors included Whiting-Turner Construction, BB&T bank, McGuireWoods LLP, Navy Mutual Aid, SFCS Architecture, and Design Data. The Gala's silent auction boasted donated items and excursions from 35 local businesses. Among the highlights of the auction were a trip to Disney World, a gold four leaf clover bracelet from Ann Hand, and two tickets to D.C.'s Spy Museum.

Saturday evening's festivities began with a cocktail hour presented by BB&T bank and the silent auction. Then, guests moved upstairs into the brand new ballroom of the Vinson Hall Community Building for dinner. Guests enjoyed listening to the Marine Corps Brass Quintet and the Alexandria Harmonizers a capella groups sing and play during dinner.
General Schwartz, former 19th Joint Chief of Staff of the U.S. Air Force and CEO of Business Executives for National Security, is a neighbor of NMCGRF and spoke to guests thanking veteran and retired military members for their service. Rep. Comstock spoke about the work being done in Congress to better support our veterans. Comstock also recognized that, "service involves not only the soldier, but the family as well."
Proceeds from the 21st Annual Gala and Silent Auction benefitted NMCGRF. NMCGRF was established in 1961 by the Naval Officer's Wives' Club of Washington, D.C. to provide housing for military officers' widows who were not left sufficient funds to live in dignity when their husbands passed away. Today, the Foundation is a 501(c)(3) organization that supports the Vinson hall Retirement Community raising funds for three purposes: Resident Assistance Fund, Research and Technology, and Wounded Warrior Transitional Housing.