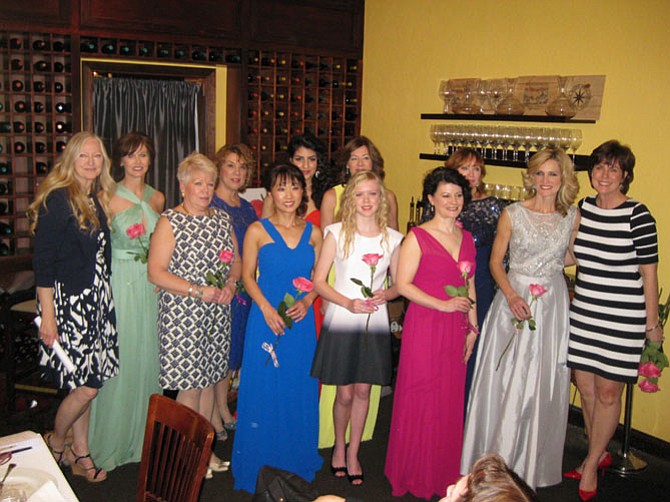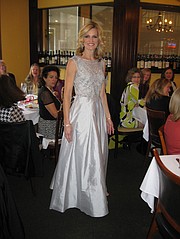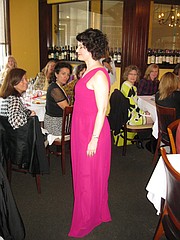 Photo Gallery
Spring Fling Fashion Show Photo Gallery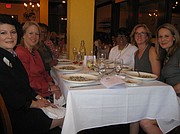 New Dominion Women's Club hosts fashion show, luncheon and raffle.
Click Photo for Flash
The New Dominion Women's Club held its sixth annual Spring Fling Fashion Show, Luncheon and Raffle, which featured colorful spring fashions from Bloomingdale's, on Sunday, March 22 at Assaggi Osteria Restaurant in McLean. More than 100 guests helped raise $5,500 for charitable causes, with 100 percent of this year's proceeds going to the Claude Moore Colonial Farm, McLean Project for the Arts (MPA), Safe Community Coalition, and SHARE, Inc.
"The event fosters community awareness of our mission to support the beneficiaries and enables local community women to network and enjoy a great lunch," said Mary Ann Miller, former Board member.
"This organization represents the heart and soul of the McLean area," said state Sen. Barbara Favola (D-31). "I'm supporting this group because of the values it represents and the commitment they have to serving the community in the areas of the arts, children, and helping youth make healthy choices."
The fashion models were some of McLean's finest, including Barbara Favola; Peggy Fox of Channel 9 News; Amee Burgoyne, president of the McLean Community Foundation; Debbie Sanders of McLean; Jackie Cho of the McLean Citizens Advisory Committee; Marcia Stanwood Twomey, president of the Greater McLean Chamber of Commerce; Margaret Vanderhye, executive director of the Virginia Commission for the Arts; Susan Corrigan, executive director of the McLean Project for the Arts; Caroline Brunner, a freshman at McLean High School; and Nicole Saad, a junior at Langley High School.
The show was organized by Stephanie Arthur and Amy Swaak. It featured music by violinist Aaron Grossman, a sophomore at Langley High School, and pianist Rayyan Chami, a sophomore at McLean High School. Chanel provided the models' makeup; Dolce Vita Salon & Spa of McLean provided the hair styling; Mitch Jones provided the photography; and Sherri Heile did the flower arrangements.
"I love the idea that this organization helps the nonprofit organizations in our community," said Peggy Fox.
Added Board member Anne Deger: "It's nice to make friends with common interests that like to help the community."
Chef Domenico Cornacchia of Assaggi Osteria served a delicious menu of arugula salad, organic spelt shell shaped pasta with mushrooms, spinach and parmesan fonduta, with Italian cheesecake with lemon preserve for dessert.
The New Dominion Women's Club, which was established 40 years ago, is a civic group based in McLean that is committed to promoting, encouraging, supporting and cultivating the civic, cultural, educational and/or environmental welfare of the community through volunteer service and/or financial contributions while providing an opportunity for fellowship among women.
Besides the fashion show, the club is involved in McLean Project for the Arts, the Children's Art Walk, SHARE (a food pantry), Reading is Fundamental (promotes literacy in children), collecting school supplies for backpacks, doing volunteer work at the McLean/Falls Church Children's Center, and cleaning up Westmoreland Street as part of the Adopt-a-Highway in McLean.
For more details, contact Anne Deger at 703-447-4440 or visit www.ndwc.org.