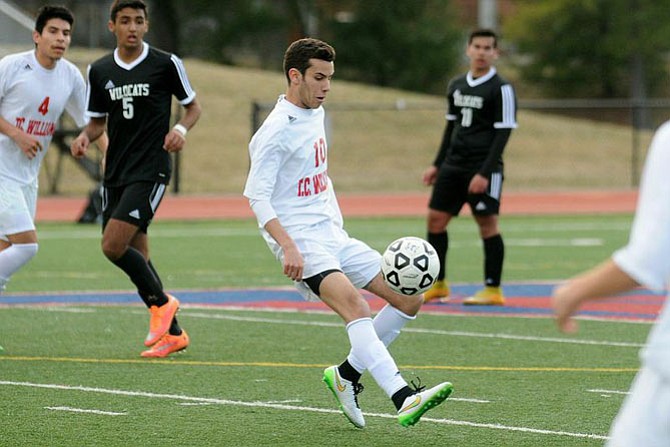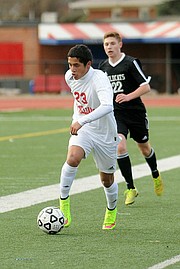 Late in Tuesday's match against Centreville, Sebastian Hendi thought back to last season, when the T.C. Williams boys' soccer team would blast the ball ahead to Eryk Williamson and let the talented striker do what he does best: put the ball in the net and help the Titans win.
Williamson's speed and skills were too much for opponents during the 2014 season. Then a junior, Williamson led T.C. Williams to the first state championship in program history. His hat trick helped the Titans beat C.D. Hylton 6-2 in the 6A state semifinals, and Williamson scored a goal during T.C.'s 2-0 win over Washington-Lee in the championship match. The Titans finished the season with a 19-2 record, including Conference 7 and 6A North region titles.
Nine months later, Hendi and the 2015 T.C. Williams boys' soccer team needed a goal Tuesday against Centreville. The Titans and Wildcats were tied at 1 late in regulation at Parker-Gray Stadium, but unlike last season, Williamson, now a member of the D.C. United Academy, wasn't an option.
On this day, T.C. Williams failed to find the back of the net and the match ended in a 1-all draw.
"I felt the responsibility because I was playing up top [that] if the ball comes to me, I've got to put it away," Hendi said. "Unfortunately, I just couldn't find it."
Junior midfielder Kevin Nunez scored the Titans' lone goal in the 60th minute.
"We need to create more chances," senior midfielder and captain Ramsey Benzina said. "We didn't create enough. We just need to put the ball in the back of the net."
The following night, T.C. Williams defeated South Lakes 2-0 to improve to 3-0-1. The Titans have outscored their opponents 7-1.
The defending state champion T.C. Williams boys' soccer team is a different group than the one that hoisted the trophy last season.
Williamson, a member of the U18 men's national team, isn't around to score goals. The Titans also graduated Wilson Miezan, a goal-scoring threat and talented defender, who helped shut down Washington-Lee's Maycol Nunez in the region and state finals.
With the loss of multiple talented athletes, T.C. Williams will utilize a different style on the field.
"We're definitely less direct this year," Benzina said. "We play a lot on the ground and moving the ball around. We have more skillful players this year and we work with that — less over the top and more passing."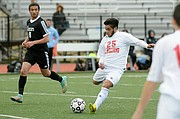 With Williamson gone, other Titans will have to help pick up the scoring slack. Nunez scored a goal against Centreville on Tuesday. Sophomore striker Benjamin Velis and senior midfielder Abdurazak Abdulla are also scoring threats. Hendi, a defender on last year's team, moved to striker this season.
"I think without Eryk — it's obviously a huge loss — but it helps us play more as a team," Hendi said. "Last year, it was great being able to find him for that last-second goal, but now we have to play more as a team to [score] goals."
Head coach Martin Nickley said Benzina's service ability could help the Titans on set pieces. Benzina assisted freshman defender Kenneth Batista on a set piece against Edison on March 17. Batista scored on a header, helping the Titans win 2-0.
"You can't get stuck in a style, you've got to work with the personnel that you have," Nickley said, "but I think our personnel allows us to attack in a variety of different ways, to defend solidly as we like to, and possess at midfield."
Senior Edgar Martinez is in his third season as the Titans' goalkeeper. Patrick Kelly, a senior, is a key member of the T.C. defense.
As defending state champions, the Titans figure to get an opponent's best effort each match. However, Benzina said T.C. is approaching the season as if it were the underdog.
"We definitely know that we have a target on our backs, but it seems like we're still the underdogs," Benzina said. "We still play with a chip on our shoulder like we're the underdogs. ... Obviously, we want to defend what's ours, but we're taking it game by game."
The Titans will travel to face Lee at 7 p.m. on April 7.
"We have always emphasized hard work and enjoying what you're doing and those have always been the focal points of our program," Nickley said. "If doing those things ultimately ends up with some championships, that's kind of a nice thing, as well. We're going in with those as our attitude — we're going to work real hard, we're going to enjoy what we're doing and hopefully that takes us to some high places again."