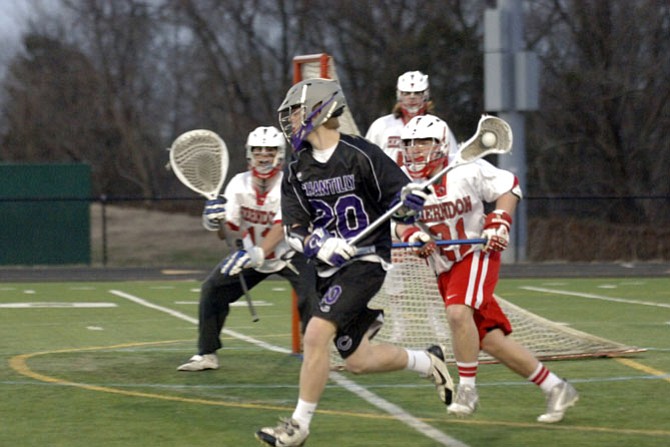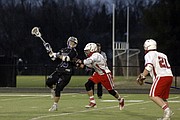 "Robinson, we have a lot of respect for them. They're a good team — they're one of the best teams in the area — but we think we have a pretty good club too."
— Chantilly senior Brendan Wallace
The Chantilly boys' lacrosse team spent the first half of Monday's game at Herndon playing like a group potentially looking ahead to Thursday's matchup with defending state champion Robinson.
The Chargers' second-half performance assured any slip-ups would not result in defeat.
Chantilly doubled its lead in the third quarter and did not allow a goal until the game's final minutes en route to a 10-1 Conference 5 victory over the Hornets.
The Chargers led 4-0 at halftime and pulled away in the third quarter. After a goal by senior midfielder Justin Mundt padded Chantilly's lead to 5-0, senior attackman Ryan Rizzo scored back-to-back goals to extend the Chargers' advantage to seven.
Junior attackman Ethan Malo gave Chantilly an 8-0 lead with a third-quarter goal, and the Chargers led 10-0 in the fourth before surrendering a goal to Herndon's Ryan McLaughlin with 2:28 left in the contest.
"I didn't think we played particularly well," Chantilly head coach Kevin Broderick said. "I don't know if it was a Monday or what but we just came out a little lackadaisical and we didn't catch and throw very well at all. It was just a matter of them coming together and I think in the third quarter … we started to play a little more Chantilly ball."
Was it hard not to look ahead to Robinson?
"You think we were looking ahead?" Broderick asked. "We were trying not to, for sure."
Rizzo led Chantilly with three goals. Senior attackman Jack Kiewel and junior attackman Colin Zimmerman each scored two, and senior midfielder Sean Comerford, Mundt and Malo each had one.
The victory improved Chantilly's record to 2-0 and set the stage for a matchup of undefeated state powers. The Chargers will travel to face Conference 5 foe Robinson at 7:15 p.m. on Thursday, March 26. The Rams (3-0) return much of their 2014 6A state championship team. Chantilly has reached the state championship game in five of the last seven seasons, winning titles in 2008 and 2013.
"Because it's a conference game, it's always a good challenge," Broderick said. "They're the defending state champions and they're playing very well — they're undefeated — so it's going to be a real test for us. They're stacked and so it will be fun to watch."
Senior defenseman Brendan Wallace, who is committed to Ohio State, warned his teammates about overlooking Herndon. Now that Chantilly took care of business, the Chargers' focus is on the Rams.
"In the grand scheme of things, win or lose [against Robinson], we'll come back, we'll keep working, we'll do the same thing no matter what," Wallace said. "But it's a big confidence booster and it's really good, it tells us how we'll stack up. Robinson, we have a lot of respect for them. They're a good team — they're one of the best teams in the area — but we think we have a pretty good club too."
Wallace, senior defenseman Javin Re, and Mundt are team captains.
"We're lucky," Broderick said. "We've got 15 seniors and some good juniors, so we should be good."
Chantilly will compete in three games during the Robinson spring break tournament, taking on Battlefield (March 28), Langley (March 30) and Williamsburg LC (April 1).