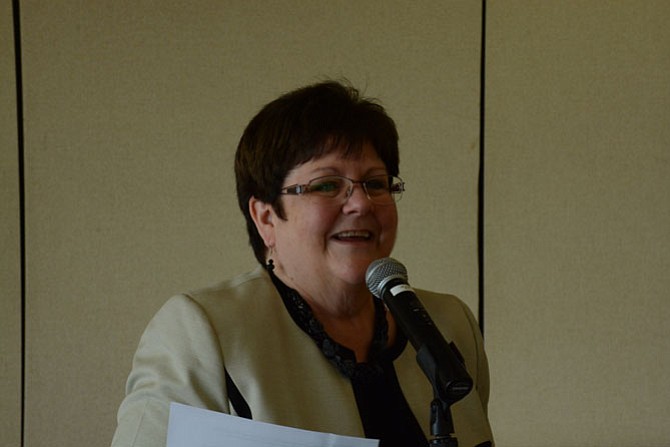 In 2011, Mount Vernon resident Dr. Glenn B. Fatzinger and his daughter Jennifer created a pair of scholarships to memorialize their wife and mother Harriet H. Fatzinger. Harriet was an elder and chair of the Congregational Care Council at Mount Vernon Presbyterian Church, where she helped co-founded a regular Friday-night fellowship program called Agape Reservoir that continues to serve individuals with special needs in the Mount Vernon Area.
"She wanted to help those less fortunate; we wanted to do something as a long-term legacy," said Fatzinger, speaking at the Fort Belvoir Officers' Club on March 11. The Northern Virginia Community College Educational Foundation sponsored the luncheon and administers the scholarships being awarded to Nova nursing students that day. Harriet Fatzinger was a 1973 graduate of the Nova nursing program.
"You may end up seeing that person in the doctor's office one day," said Fatzinger, who is on the faculty at Nova and Marymount University.
This year, the pair of scholarships were given to Brittney Arsenov and Andrea Balbuena, both of whom are involved with nursing programs at Nova and plan to continue with Masters and RN to BSN programs after graduating.
Guest speaker Dr. Anne Loochtan recently joined the Northern Virginia Community College Medical Education Campus in Springfield as provost. She said that of the 23 community colleges in Virginia, Nova's six campuses and 78,000 students account for 28 percent of the state's community college enrollment this spring.
"For many of our students, they're the first in their family to attend college," said Loochtan. "We're truly the melting pot of the college system. We have a place for just about everyone."
One example is Annandale High School graduate and scholarship winner Balbuena, whose parents are from Peru; she'll be the first in her family to complete a college education.
Balbuena had financial aid for tuition up until this year, when she lost her eligibility. The scholarship will allow her to finish her program and follow her plan to pursue a Registered Nurse to Bachelor of Science in Nursing program after graduating.
Loochtan commented that Nova students at the medical campus take the same credentialing exams as students at 4-year universities and compete for the same entry-level positions.
These scholarships could be the lifeline for low-income students, Loochtan continued, that it's "not uncommon to serve students who are homeless" and sometimes living in tents outside buildings on campus.
For Arsenov, the scholarship will help cover at least one and a half semesters of her program at Nova. She hopes to attend The George Washington University after graduating for a Masters degree.
Arsenov and her husband Pavel share a house in Ashburn with a few other residents to cut down on living costs. "Having someone recognize my efforts, how hard I've worked," said Arsenov, "I couldn't believe it. There's huge security with this help."
Sustaining the cost of living in northern Virginia plus educational expenses and studying has been "a family endeavor," said Arsenov's husband. "We've had to put social life on the backburner."