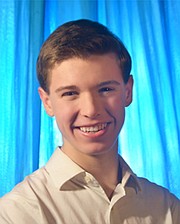 The McLean High School Theatre Company (MTC) presents the renowned docudrama "The Laramie Project," April 9-12. Directed by Amy Poe, the award-winning company uses a series of interviews to piece together the facts and fabrications surrounding the tragic 1998 murder of Matthew Shepard. "The Laramie Project "opens to a single weekend run, Thursday through Saturday, April 9-11, at 7 p.m., and Sunday, April 12 at 2 p.m. Performances are in McLean's Burks Auditorium with advance tickets available at www.mcleandrama.com. Thursday's performance is a special "Pay What You Can" night when guests are asked to pay at least $1 at the door. A special screening of the limited-release documentary, "Matt Shepard Is a Friend of Mine," premiers Wednesday, April 8, at 7 p.m. with tickets available at the door.
After the death of the Matthew Shepard, a gay college student killed for his open sexuality, the Tectonic Theater Project traveled to Wyoming to examine the mood of the town and the reaction to the hate crime. Moisés Kaufman, Tectonic's founder, subsequently wrote "The Laramie Project," describing the town's healing in the year following the murder. While shedding light on the darkest parts of society, the play incorporates notes of hope in the outpouring of support for the family and friends of Matthew Shepard and serves as a reminder to spread love in the face of hate.
Director Amy Poe shares, "We are excited to draw attention to such a prevalent issue in society. Though Matthew Shepard died almost 17 years ago, by producing this show we are demonstrating our continual support for him and for victims of prejudice everywhere. Following our area premiere of the fantastical musical Big Fish, MTC will explore a different side of theater through this drama. We hope that audience members leave inspired to help circulate love throughout the community."
Cappie award nominee and DCMetrotheaterarts.com award recipient Jack Posey leads the production as Moisés Kaufman. The most impressively executed element of the show, however, is the fluidity and cohesion with which the entire ensemble of over 50 performers moves to convey the story through a selection of personalities in the town of Laramie.
McLean Theatre Company comprises students, parents and teachers at McLean High School working together to produce challenging and award winning theatrical productions. The home of McLean Theatre Company is the 600 seat Burks Auditorium and the more intimate 75 seat Black Box Theater at 1633 Davidson Road, McLean, Virginia.