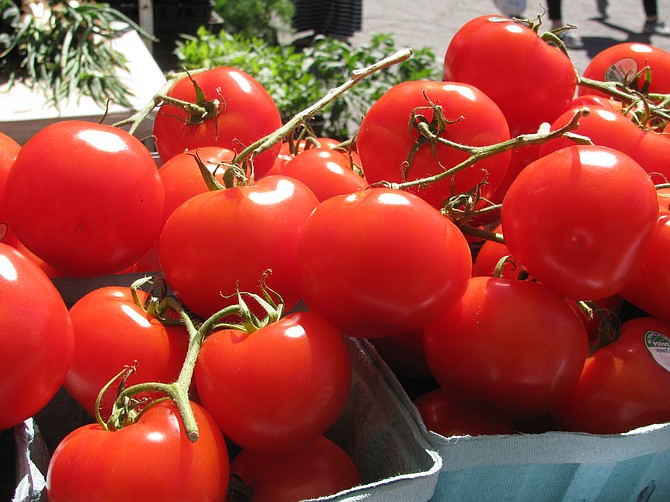 Benjamin Stoessel, 15 months, loves his fresh vegetables, said his mother Laura Stoessel. "Zucchini all day," said his father Tim Stoessel.
On Saturday, May 2, The Reston Farmers Market opened its 18th season with 30 vendors at Lake Anne Plaza and joyful crowds in the sunshine. More than 60 vendors applied to be part of the Reston tradition this year, said Market Masters Fran and John Lovaas.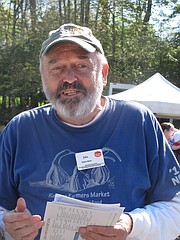 "This is the best place to be on a Saturday morning. This is the in-crowd," said Mike "Farmer Mike" McCormick, an eco-friendly farmer at Lady Bug Mountain Farm. "If they're not curious, I hope they will be after they have some time with me."
Farmer Mike has been with the Reston Farmers Market since its beginning in 1998. When one consumer looked at his flowering peonies, the former Langston Hughes Middle School teacher stepped back into his familiar educating role.
"When you get home, cut it off. When you get it in the ground, it will grow even better," he said. "Smell it. This was grown inside a greenhouse, that's why it's flowering. When you put it outside, give it as much sun as you can."
THE EDUCATIONAL COMPONENT to the Saturday morning market is Courtney Diep's favorite part of shopping for produce and herbs at Lake Anne's market on Saturday mornings.
Her son Kyrie, 5 months, helped his mother make monetary and informational exchanges. "He'll be an eco-friendly shopper," said Courtney. "I can ask questions. They teach me all the things I can learn."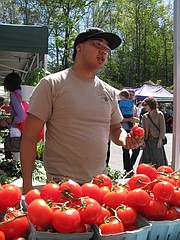 Bryce Sahagun, from Toigo Orchards, set numerous varieties of heirloom tomatoes and apples out for people to munch.
"The customers are informed. It's fun to help them directly and share my knowledge," he said. "When the season is at its peak, it can be a pretty exciting job."
Jeff Boogaard, from Breezy Meadow Farm, welcomes questions about his practices.
"I like it when they are interested in how the animals are raised," he said. Customers ask if his cattle are raised humanely, naturally, and what their feed practices are all about. He even teaches people about how natural rabbit fertilizer is used and why it is so effective and ready to use in its ideal pellet size.
"If it isn't grown or produced on the farm, it doesn't come on the farm," he said.
Craig and June McMullen opened their own business, Nitro's Creamery, two years ago, and are at the Farmers Market for their first year. They get their cream and milk from a small farm in Maryland.
"Everybody seems so eco-friendly and caring about what's going on in the environment," said Craig. He and his wife received the cutest smiles of the day after the littlest members of families enjoyed their freshly made ice cream.
The market's opening day is like "the first day of spring," said Greg Butcher.
Heirloom History and Tomatoes
The Reston Farmers Market opened Saturday, May 2, and will be open through Nov. 14, 2015 on Saturday mornings from 8 a.m. to noon at Lake Anne Village Center. The market has more than 30 vendors, and is the largest in the county, said Market Master John Lovaas.
See http://restonfarm...">restonfarmersmark... for a complete list of vendors and produce and history.
Get information on all farmers markets in Fairfax County at http://www.fairfa...">www.fairfaxcounty...
EVERY YEAR, "the season extends longer and longer," said Linda Fuller. "After redevelopment, we're hoping it extends year round."
Ken Knueven, past president of the Reston Association, passed Butcher and Fuller on his way to pass out information at the Reston Association information booth. He lifted up his bag of produce as he walked by.
"Anybody want an apple," said Knueven.
Cole Lovaas, 14, visits his grandparents, Fran and John Lovaas, the Market Masters of Reston's Farmers Market, from Bristow.
"I love all the stuff here, it's great," he said. "I like to use the goat cheese and bacon to make a burger. I use fresh vegetables to make a stir fry."
Although he talks like a chef primed for Food Network competition, he doesn't have such aspirations.
"If I can be a scientist [for career] and cook at home, that will be alright with me," said Cole, who has specialized interest in reptiles and amphibians.