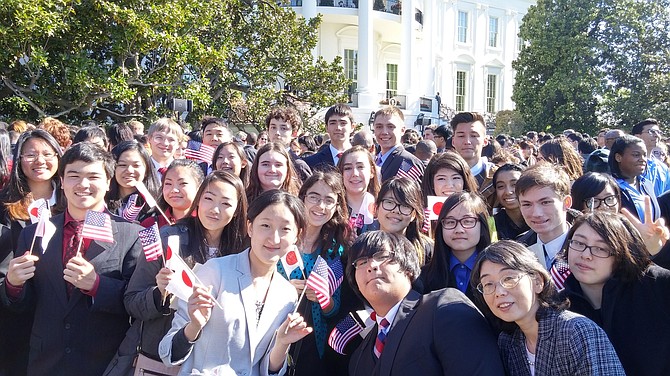 On April 28, students in the Japanese language program at Lake Braddock Secondary and at Hayfield Secondary visited the White House for the official ceremony welcoming Japan's Prime Minister Shinzo Abe to the United States. Such an invitation was a first in each school's history, and produced much excitement among the students and teachers.
"We found out about a week-and-a-half before," said Eriko Spurlock, a senior in the Japanese language program at Lake Braddock Secondary.
"We were very honored to be there," said Hayfield Secondary senior, Michael Chong. Students from all local school districts were invited to send 50 students to the official welcoming ceremony. Twenty-five students from Lake Braddock and 25 students from Hayfield represented Fairfax County on Tuesday. The opportunity to visit the White House has students thinking about their future plans.
"I hope to minor in it. My sister studied Japanese here and I'm following in her footsteps," said Christopher Scafford, senior at Lake Braddock.
The official ceremony lasted for half an hour, beginning at 9 a.m., with a welcome from President Obama, followed by remarks from Prime Minister Abe. At the conclusion, the leaders shook hands with members of the audience, something that the students will never forget.
"The most memorable part was shaking their hands," said Bryce Ahn, a senior from Lake Braddock who also did a homestay in Japan with Youth for Understanding.
"I was very determined to shake both of their hands," said Nattacha Munakata, from Hayfield, with a laugh. Munakata, who is Japanese, serves as a coach/mentor to students in the Japanese language program.
In addition to shaking each of their hands, Scafford took a step further, attempting to try out a Japanese expression with the Prime Minister.
"When I said it he nodded, but I also saw the look of surprise on his face," he said with a laugh.
This visit has students thinking about continuing their language study, and learning more about relations between Japan and the United States.
"If I could ask them any question it would be what would you do to improve relations?" said Linsey Asbury, junior at Hayfield.
"I just want them to be good citizens," said Yuki Melvin, Japanese language teacher at Lake Braddock. "A key concept of Japanese culture is coexistence."
"Overall, it was a really cool experience," said Japanese language teacher at Hayfield, Kyoko Vaughan. "It was a once-in-a-lifetime opportunity."
Both Lake Braddock and Hayfield were among the top five winning teams in the National Japan Bowl competition, held in early April. The competition tests students' knowledge in different areas of Japan's history, culture, language and more.
On the same day that students visited the White House, Great Falls Elementary School received a special visit from First Lady Michelle Obama, and First Lady Akie Abe of Japan.