Meghan Pollard, 18, of Balmoral in Clifton is taking a service gap year between graduating from Centreville High School and attending Georgia Tech. So last Fall, she set off for Tanzania in Eastern Africa, a nine-hour car ride from the government capital of Dar Es Salaam. There, she worked for six weeks at the Pomerini Secondary School, teaching English and tutoring in geography, chemistry, physics and English. She also worked in the village health clinic on AIDS projects.
"It was definitely an eye-opening experience to see their focus on education," said Meghan, the daughter of Deborah and John Pollard. "Their students have an appreciation for the opportunity of education because many people do not have the opportunity to attend school beyond a sixth-grade level."
Pomerin Secondary School is a boarding school — the classrooms have 50-60 students each; they share two or three to a desk, two to a chair. She said everything beyond the sixth grade level is taught in English, even though most of the students speak their tribal languages and their national language of Swahili.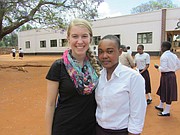 "Students are very disciplined and very focused on their education, on studying and passing their exams," she said. "They were all packed into the classroom; they're all cramped in and studying together," she said. "If they need additional time beyond those two hours (of generator time), they have no available light to study with. So many of them will be sitting outside studying by the moonlight."
There is no electricity and no generator at the dorms, so the only way for students to have light is if they have a solar light. One volunteer had brought a solar light with her, and "we realized how useful it was and how crucial it was to have a solar light just to be able to go through typical daily activities," she said.
So Meghan got the idea for her Lights for Learning campaign to raise money to send solar lights to the students. Her goal is to send 644 lights — one for every student at Pomerin to use for studying. Each light costs $15, which includes shipping to Tanzania. So far, she's collected enough money to send about 50 lights.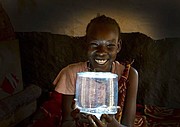 The inflatable lights are manufactured by a company called Mpowrd; they are the size of a CD case and deflate to about one inch. They have reflective panels that distribute light to a larger area and come in three settings: low, high, and flashing. Once they're charged, they lasts for six to 10 hours.
Meghan has to buy one pallet of 96 lights at a time, which is a cost of $1,500 per pallet. Presently, she's raised close to $1,000.
Visit her website: igg.me/at/lightsforlearning to make a contribution by a credit card, and the funds will go towards purchasing solar lights.
After her trip to Tanzania, Meghan spent eight weeks in Honduras volunteering at an orphanage for abandoned and abused children. There she taught at the bilingual school and helped them establish a telemedicine program.
Locally, Meghan has also volunteered at the Katherine Hanley Shelter where she's helped organize birthday parties for the children; worked at Habitat for Humanity's ReStore; coached tennis for Special Olympics; and helped organize the food pantry and decorate for Christmas at Fisher House. Before she goes to college in August, she's looking to volunteer in Peru, St. Lucia, and the Cook Islands. She attends St. Mary's Catholic Church in Fairfax.
"Meghan has always had a big heart," said mom Deborah. "And her desire to defer college for a year to pursue a service gap year has been incredible. Her compassion and desire to help other people shines through in her Lights for Learning Project; she set a high goal for herself of getting so many lights, but I believe because of her effort and dedication, she's well on her way to providing a light for every single student."
In the fall, Meghan will be a freshman at the Georgia Institute of Technology, where she'll study biomedical engineering. She is considering going to medical school, and working in drug design, prosthetics or medical device development.
While she was at Centreville High School, she was a member of the choir, led the a capella group, played volleyball all four years, involved in the Key Club, and was a member of the National Charity League.
Meghan wrote a blog about her experiences in Tanzania and Honduras, and will continue to blog about her service gap year. Visit Wideningmyworld.wordpress.com.