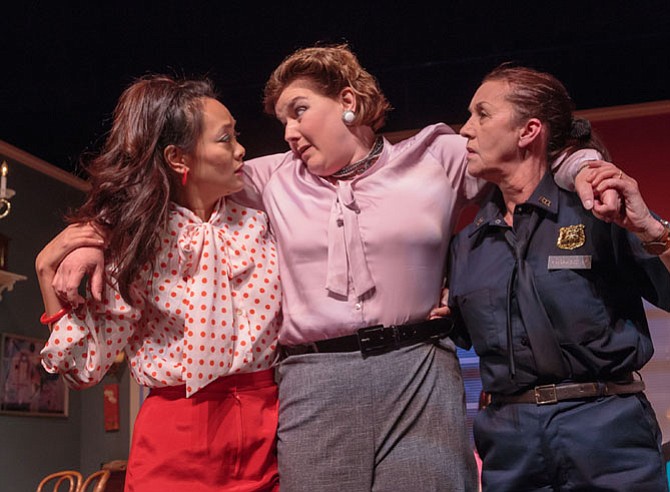 Ongoing
"Attics and Alleys."Saturdays in May, 9 a.m.-12 p.m. at various locations. Guests are invited to take a walking tour through historic sites like Gadsby's Tavern Museum, The Apothecary Museum and the Carlyle House in honor of National Preservation Month. Tickets are $35. Visit www.alexandriava.gov for more.
"Tempo & Pause" Exhibit. Through May 11, various times at Principle Gallery, 208 King St. Find cityscape paintings by Greg Gandy and Valerio D'Ospina. Free. Visit www.principlegallery.com.
"The Odd Couple." Through May 16, Wednesday-Saturday at 8 p.m. and 3 p.m. on Sundays. The Little Theatre of Alexandria, 600 Wolfe St. The LTA presents a twist on the traditional comedy with female characters. Tickets start at $19. Visit www.thelittletheatre.com.
"COMPARTMENTALIZED." Through May 17. 10 a.m. - 4 p.m. Monday-Friday and during performances at The Rachel M. Schlesinger Concert Hall & Arts Center, Margaret W. and Joseph L. Fisher Art Gallery at the Alexandria Campus of Northern Virginia Community College, 5000 Dawes Ave. The exhibit, featuring Lang's assemblages of photography, digital photomontage, and found objects will be on display. Free. Visit www.schlesingercenter.com.
Art Exhibit. Through May 31. Athenaeum Gallery, 201 Prince St. "Rara Avis" is an exhibition of bird-centric works of Beverly Ress, Langley Spurlock and Martin Tarrat in the Athenaeum Gallery. Admission to the gallery is free. Visit www.nvfaa.org.
Eunsook Lee: "Dispersed Family." Through May 31. Gallery hours at The Target Gallery, 105 North Union St. Eunsook Lee's exhibit of black light threads sealed and laminated alongside images and other materials will be on display. Admission is free. Visit www.torpedofactory.com.
"MIX: Adventures in Mixed Media." Through May 31 at DelRay Artisans gallery, 2704 Mount Vernon Ave. Artists mix two or more mediums for this exhibition collaboration between Del Ray Artisans and Artistic Artifacts. See www.TheDelRayArtisans.org.
"Perceptions" Through May 31, 11 a.m.-6 p.m. at The Associates Gallery at the Torpedo Factory, Studio 319, 105 N Union St. The "Perceptions" exhibit will feature 3-D artist Erika Cleveland, painter Ellen Delaney, graphic artist Kara Hammond, and street photographer Val Proudkii. Free to attend. Visit www.torpedofactory.org.
"Intricacies" Exhibit. Through Sunday, May 31 at various times at Convergence, 1801 N. Quaker Lane. Artist-Photographer Nina Tisara unveils her "Intricacies" exhibit, a collection of mosaics. Visit www.ourconvergence.org.
"Living Yesterday Today." Through June 14 at various times at Multiple Exposures Gallery, 105 N Union St. "Living Yesterday Today" is an exhibit featuring photography by Sandy LeBrun-Evans following 150th Civil War Reenactments. Free to attend. Visit www.torpedofactory.org.
"Paintings of the Potomac Valley Watercolorists." Through June 28, 9 a.m.-4:30 p.m. Monday-Saturday, 12-4:30 p.m. on Sunday at Green Spring Gardens, 4603 Green Spring Road. Find watermedia floral and landscape paintings. Free to visit gallery. www.fairfaxcounty.gov/parks/greenspring.
Thursday-Saturday/May 7-9
"Anne and Emmett." Various times at MetroStage, 1201 N Royal St. "Anne and Emmett" is an imagined conversation between 14-year-old Emmett Till and 15-year-old Anne Frank, both young victims of racial violence. Tickets are $35, $25 for students. Visit www.metrostage.org.
May 7-June 1
"Printed Art: The Potomac." Gallery hours at The Art League, 105 North Union St. The Art League presents a series of linocuts by John Gosling depicting the Potomac. Free Visit www.theartleague.org.
Friday-Saturday/May 8-9
Hollin Hall Art Show. 1-3 p.m. on Friday, 12-3 p.m. on Saturday. Senior artists will display and sell their art in connection with the month-long Fairfax County Creative Aging Festival. Also find an intergenerational seed saving American Indian pinch pot workshop. Free. Call 703-765-4573.
Friday/May 8
Not-So-Silent Auction. 6:30-9:30 p.m. at the Howard Gardner School, 4913 Franconia Road. Find music and buffet dinner at the school's 10th Anniversary Auction to benefit the financial aid program. Admission is free. Cal 703-822-9300 to RSVP.
Saturday/May 9
Genealogy Lecture. 11 a.m.-1 p.m. at Alexandria Black History Museum, 902 Wythe St. Co-author of "African Americans of Alexandria, Virginia: Beacons of Light in the Twentieth Century" Char McCargo Bah will lead a lecture on "What you need to know about Social Security." Admission is $10. Visit www.alexandriava.gov.
Wine Tasting Event. 12-5 p.m. at Balducci's, 600 Franklin St. In honor of Mother's Day, Balducci's will be serving special wine and food pairings. Free. Visit www.balduccis.com.
Spring Art Market. 10 a.m.-4 p.m. at Del Ray Artisans, 2704 Mount Vernon Ave. This outdoor market will feature the work of more than 25 artists. Free to attend. Visit www.thedelrayartisans.com.
Braddock Interim Open Space Celebration. 3-5:30 p.m. at 600 N Henry St. The public is invited to celebrate the launch of the new half-acre space with community gathering areas, seating, joggle boards, a bocce ball court, horseshoe pits and a Ping-Pong table. Free. Visit www.alexandriava.gov/Braddock.
World Fair Trade Day. 6 p.m. at Ten Thousand Villages, 915 King St. The store will be giving away samples of fair trade products all day, and at 6 p.m. Mayor Euille will announce the winner of the fair trade essay contest. Free. Visit www.alexandria.tenthousandvillages.com.
New Hope Housing Spring Gala. 6:30-10:30 p.m. at US Patent & Trademark Office, 600 Dulany St. Councilman John Chapman, Del. Scott Surovell, Ms. Capitol Region 2015 Madhu Umashankar, and Dale Fisher will participate in a dance-off at this fundraiser. Tickets are $100. Visit www.bidpal.net/nhhgala2015.
The Honey Dewdrops, with Buzz Peele. 7 p.m. at Church of St. Clement, 1701 N. Quaker Lane. Folk singers Laura Wortman and Kagey Parrish will perform alongside Buzz Peele. Tickets are $15 in advance, $18 at the door. Visit www.focumusic.org.
Gary Taylor.7:30 p.m. at Birchmere, 3701 Mount Vernon Ave. R&B singer/songwriter Gary Taylor will perform. Tickets are $35. Visit www.birchmere.com.
Spring Concert. 8 p.m. at Convergence, 1801 N Quaker Lane. Visit www.alexandriachoralsociety.org for more.
Saturday-Sunday/May 9-10
Mother's Day Weekend at Mount Vernon. 8 a.m.-5 p.m. at Mount Vernon: George Washington's Estate and Gardens, 3200 Mount Vernon Memorial Highway. Martha Washington, portrayed by Mary Wiseman, will be present on the estate to give tours and hand out lavender sachets to mothers. Admission is included in the $17 ticket for adults. Visit www.mountvernon.org.
Sunday/May 10
Mother's Day Tea. 11 a.m. and 2 p.m. at Carlyle House, 121 N Fairfax St. Lounge at the Magnolia Terrace with catered food and learn the "Language of the Fan." Tickets are $30. Visit www.carlylehouse.org.

Mother's Day Open House. 1-4 p.m. at Friendship Firehouse Museum, 107 S Alfred St. Learn the history of the fire house and have your picture taken by the in-house photographer. Free for mothers and families. Visit www.friendshipfirehouse.net.
Mother's Day Tours. 1-5 p.m. at The Stabler Leadbeater Apothecary Museum, 107 S Fairfax St. The Museum is offering free tours to mothers. Admission is $5 for other adults, and $3 for children aged 5-12. Visit www.apothecarymuseum.org.