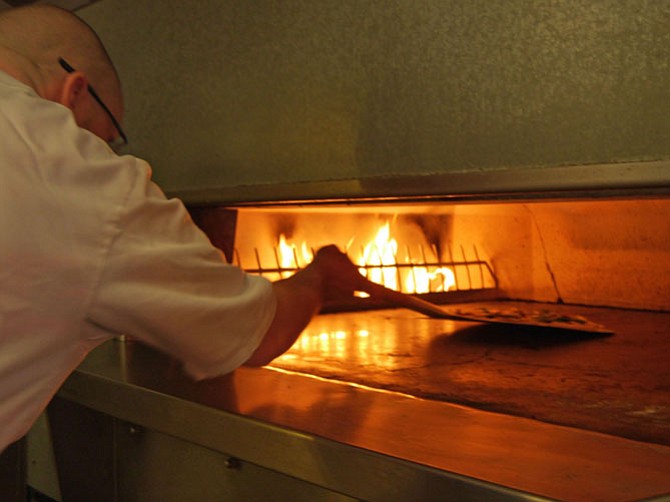 Evan Buchholz pulls a wad of dough out of a large bucket onto Rustico's kitchen counter. He cuts the dough into 11-ounce strips "enough to make 25 14-inch pizzas. I make over 130 pizzas a day." This dough had been made yesterday and had been retarding in the refrigerator overnight. That allows it to proof and give it the flavor. The dough balls get moved to proof boxes for up to two more days for bunching and shaping. He says the current customer pizza favorite is "Butcher's Block, a combination of capicola, salami, in-house made sausage, pepperoni and provolone cheese, "of course with the house-made San Marzano sauce cooked 2.5 hours, always by the same person. It's a labor of love."
Buchholz takes a ball of dough that has been resting. He says with a wisp of a smile, "see how relaxed it looks?" His hands pull the dough first one direction, then another until it is stretched thin. "Some people believe in tossing the crust, but we stretch it out thin inside and to get the nice crust on the outside." As each is finished, he lines up the empty crusts on a rack 20 pizzas high and creates each one as it is ordered. Today he is making a mushroom pizza, "my own personal favorite."
Dipping into the container of mushroom cream with a scoop, he spreads the sauce around the crust "so everyone can get a taste of it on the pizza." Next he sprinkles fresh spinach to give the pizza some body and arranges the green leaves on the circle "to make it look appetizing." Now the pièce de résistance, the sautéed combination of shallots and garlic in Chablis with a mushroom combo of oysters, shitakes and creminis. Dollops of white goat cheese add a slightly tangy flavor and pattern of colors. He carefully edges the wooden paddle under the pizza.
Flames leap inside the open oven where he coaxes the pizza off the paddle to cook for 4-6 minutes. "The floor of the oven is 500 degrees with 800 degrees on the top, and the heat circulates to give it that nice crust." The restaurant sometimes suggests food pairings with its sizable beer selection. He says, "Beer is much better with food. Rustico is having a whole week dedicated to beer and food May 12-18. For instance, with the mushroom pizza I'd probably suggest a scotch ale because of the maltiness or go to the other end with a saison because of the herbs in the beer, complementary to the mushroom flavor."
Buchholz says this is a neighborhood restaurant. "I see some of the same people every night. There is a section at the bar that on any given night I see 5-6 people I know. They stop by to say 'hi' to Jim at the bar or to chat me up." He continues, "it's always fun to try a new thing for the regulars; that keeps people excited." He remembers a pumpkin pizza puréed with a lot of cheese that he tried last year. "It was delicious." Rustico likes to use fresh ingredients from local farmers. Sometimes Buchholz stops by his neighborhood farmer's market at Mount Vernon, "and I pick up a crate of apples. I paired it with spinach and ham. What I find, I translate into a pizza with that ingredient." But he thinks there aren't as many trends in pizza as with other foods. Pepperoni is always the all-time favorite. "It's never going to go away. Well, we did introduce our gluten-free crust, and people went crazy. And Friday seems to be family night when the kids come home from school and nobody wants to cook."
After graduating from Le Cordon Bleu Institute of Culinary Arts in Pittsburgh , Buchholz worked at the Rustico at Ballston before transferring to the one on Slater's Lane in Alexandria. He comes to work at 8 a.m. and leaves .... "pppppppff, at 8 p.m. or closing." Before that, "I was at Rosa Mexicana. But pizza was more my wheelhouse." He attributes his interest in cooking to his mother. He says when he was 12 years old, his mother said he wasn't going to leave home without knowing how to cook. So she told him he could cook whatever he wanted for a week in the summer. "That turned out to be ground beef tacos with a lot of cheese and more ground beef tacos with lots more cheese and ...."