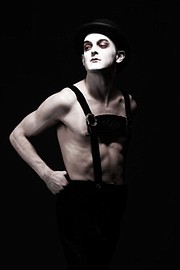 Willkommen to the Kit Kat Club, the hottest nightclub in seedy, prewar Berlin, where life is beautiful. To highlight its 25th Anniversary Season, Signature Theatre is staging "Cabaret" May 12 to June 28 at its Shirlington venue.
The musical masterpiece revolves around American writer Cliff Bradshaw who travels to Berlin searching for inspiration. He finds it in English club performer Sally Bowles and they begin a torrid affair. However, outside their door, the Nazis' impending rise to power heralds a brutal end to their decadent way of life.
The Signature show stars Wesley Taylor (NBC-TV's "Smash," Broadway's "The Addams Family" and "Rock of Ages") as The Emcee and Barrett Wilbert Weed ("Heathers: The Musical") as Sally Bowles. It also features the songs, "Maybe This Time," "Willkommen," "Don't Tell Mama" and the title song, "Cabaret."
The 1966 Broadway production of "Cabaret" was based on a book written by Christopher Isherwood with music by John Kander and lyrics by Fred Ebb. The show was made into a 1972 film starring Liza Minnelli and directed by Bob Fosse. It produced many subsequent revivals through the years in London and New York.
Director and producer Matthew Gardiner said with this being the 25th Anniversary season, Signature wanted to bring back a couple of shows that played important roles in the theatre's history. Calling it a masterpiece, he said "Cabaret" was first produced at Signature in 1995 and it's a production that many subscribers still talk about to this day, he said. "We also have a long history with the work of John Kander and Fred Ebb, so we felt that our 25th anniversary season had to include their work."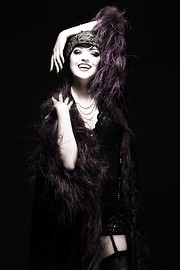 Gardiner said "Cabaret" is such an iconic piece of musical theater — from the original Hal Prince staging to the Bob Fosse film to the Sam Mendes revival — that the challenge is that it has been interpreted in so many ways. He said: "I fell in love with the show when I was a teenager, so it's hard to remove the images of the Fosse film or the Mendes revival from my mind. I've come to embrace the fact that I shouldn't necessarily worry about being different as much as I should be concerned with telling the story to the best of my ability through my specific lens."
For audience takeaways, he asks the questions: "How are you complicit in your silence? When the world is full of horrible injustices, what are you doing to stop or bring attention to those injustices?"
Maria Rizzo plays the role of Fr. Kost, a German "woman of the night" who lives in the Nollendorfplatz. "She is proud, patriotic and seeded in hate," she said.
She said the hardest part personally is playing such a wicked villain. "She is a true self-serving witch who has been rooted in hatred," she said. "That's been hard to do. Hate has been what led to such horrific points in history. So as hard as it is to victimize, I know it's important to include in the story to hopefully help shine a light."
She said she hopes the audiences are entertained by how visually stunning the show is. "The smokin' women, this awesome set, the sexy lighting, the classic and brilliant music," she said. "(Director) Matthew Gardiner's fluidity of transitions — it's all incredible and nuanced."
She added: "Most importantly though, I hope people can take away that despite the decadence and excitement the world of the cabaret creates, hatred and ignorance still lives outside of it. We're hopefully opening eyes that may have at one point been clouded with glitter."
Signature Theatre is staging "Cabaret" May 12 to June 28. Specialty Nights include Pride Night scheduled for June 5; and Discussion Nights on May 20 and June 9. Show times are Tuesdays and Wednesdays at 7:30 p.m.; Thursdays and Fridays at 8 p.m.; Saturdays at 2 p.m. and 8 p.m.; and Sundays at 2 p.m. and 7 p.m. Tickets are $65 to $108. For tickets, call Ticketmaster at 703-573-SEAT or call the Signature Box Office at 703-820-9771. Signature Theatre is located at 4200 Campbell Ave., Arlington. Call the Box Office at 703-820-9771.