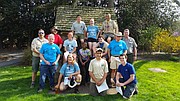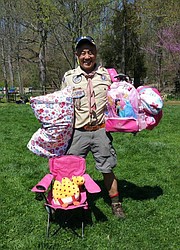 First-time campers from local 5th & 6th grade elementary schools enjoyed the camp out sponsored by Wolf Trap National Park for the Performing Arts during the April 17-18 Fairfax County school holiday. Wesley Pan and Heather Youmans led other youth leaders in conducting the camp out. The youth leaders were from Boy Scout Troop 55 and Venture Crew 365 from Great Falls, Herndon Venture Crew 1018, and Girl Scout Troops 1372 and 667. Scoutmaster Gary Pan, additional adult Scout and parent leaders, Friends of Wolf Trap,and Potomac Appalachian Trail Club (PATC) volunteers provided additional planning and logistical support.
Campers set up tents, cooked and cleaned up after their meals, and
participated in fun and educational events. Campers did plantings in the
Wolf Trap garden and greenhouse, hiked on the Wolf Trap trail
built/maintained by PATC, and created and performed skits at the meadow pavilion. Campers also enjoyed s'mors at the evening campfire.
During a Wolf Trap back stage tour conducted by Ranger Will Rifenbark,
campers saw the back stage equipment used to put on a production, learned stage terminology, and a little history of the evolution of the technology of stage production. During this tour, the campers also witnessed a demonstration of robots built by youth leaders Heather Youmans and James Ye as participants in local robot building competitions.
Campers enjoyed learning about birds and birding from Jennifer Simms,
an Audubon Society volunteer, who taught them what to observe about a bird, how to use a bird book to identify the bird, what to listen for, and how to use binoculars to get a closer look.
Friends of Wolf Trap and PATC Wolf Trap trail overseers Mike Moran and Alan Day led a hike on the Wolf Trap trail around the Park especially the farm pond where campers could observe turtles, a water snake, and beaver lodge while honing their binocular skills.
Campers finished off the camp out on the Theater-in-the-Woods stage
performing Animal Antics where campers imitate an animal while other campers try to identify the animal.
Registration for the fall camp out scheduled for Oct. 9-10 (Fairfax
County School holiday) starts on Sept. 1.