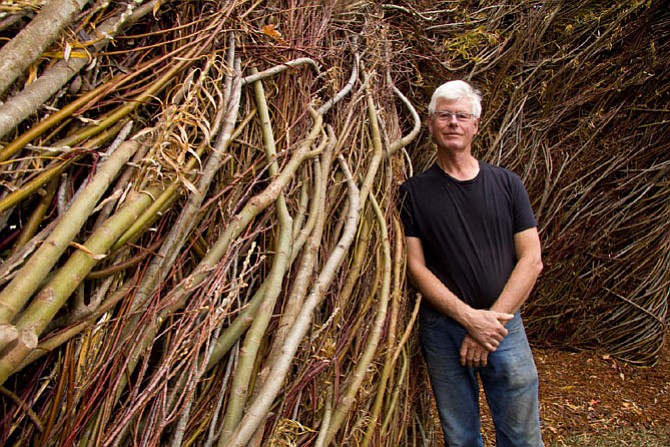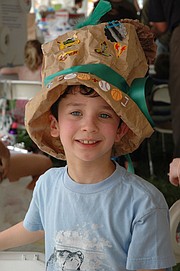 More than 200 artists from around the nation will display their original art across six Reston blocks during the 24th annual Northern Virginia Fine Arts Festival on Saturday, May 16 and Sunday, May 17.
"It's hard to envision how big this really is until you stand in the middle of the festival," said Erica Harrison, Festival Director and associate curator with the Greater Reston Arts Center (GRACE).
But despite its size, the juried fine arts festival, measurably one of the top in the country, offers the opportunity to see original art while meeting and talking with the artists directly.
"If you want to buy a nice piece of art, and you want something original, it's so much fun when you get home and put it on the wall to know the artist that made it and to have a connection with that person," said Bonnie Haukness, a volunteer with the festival who checks artists in for the weekend.
"It opens the whole door to have a conversation about what original art is, how affordable and meaningful it is, and how people can develop meaningful connections to artists," whose work they purchase, said Harrison.
And the caliber is high. Festival jurors selected artists in 10 categories of fine arts and crafts to exhibit and sell their work at GRACE's event, which is one of the largest independent outdoor art festivals on the east coast.
Organizers (and history) suggest that the festival will attract approximately 40,000 people over its two days.
"It is a very difficult show to get into, it's very well regarded across the country," said Haukness.
"It's very special to get to know them. I've always been amazed by these artists," she said, having the faith to pack up their art on planes or by truck, to display their works in Reston.
Northern Virginia Fine Arts Festival
More than 200 artists
Saturday, May 16, 10 a.m.-6 p.m.
Sunday, May 17, 10 a.m.-5 p.m.
Rain or Shine
$5 Requested Donation
Reston Town Center at 11900 Market Street, Reston, Virginia.
GRACE's Festival Launch Party in the Pavilion
Friday, May 15, 6-8:30 p.m. Tickets for the party are $75 per person. Food, entertainment, a silent auction, plus a chance to mingle with the artists in town for the big weekend event.
MINNEAPOLIS ARTIST Ginny Herzog will return to Reston for her 15th year at the festival. "My rewards have been so good over the years, so I would not think otherwise," she said. "I have some really strong collectors and they come every year."
According to her website, a fascination with architecture inspired Herzog to create mixed media paintings and she is frequently asked to do site specific commissions for clients of their homes, commercial buildings or a body of work by an architect or developer.
One of Herzog's site specific works, a 50-inch-by-104-inch triptych was installed in a two-story atrium of a Reston home last week. She has pieces showcased in Potomac, Alexandria and Reston homes and businesses.
"The Reston show probably delivers more sales of large pieces for commission than any other shows I do," Herzog said. "I find the collectors in this area very knowledgeable."
Marion Myers has always been involved with the show, and remembers the festival's awe-inspiring yet more humble beginning.
"Good grief no," she answered if she envisioned the festival's success and growth to its current size.
"I don't remember how many artists there were at the beginning, but I think it was 30. We started off with only the first block," said Myers.
She called the festival one of the fledgling events that first start during a national recession that has grown exponentially with the growth of the Town Center.
"It's nationally ranked, we're consistently in the top 10," said Myers.
A broad array of works will be displayed, ranging from functional furniture and ceramics to kinetic sculpture, from original photographs to paintings both abstract and naturalistic, and from wearable art to a diverse selection of handcrafted jewelry, appealing to wide range of taste and budget.
There will be more than 200 booths plus life music performances.
DANCE PERFORMANCES choreographed to respond to Patrick Dougherty's sculpture installed at Town Square Park in April will be presented during the weekend by Reston Community Center. And hands-on art activities will be available for children at the Reston Town Center Pavilion.
"Even though there are many returning artists that I know and recognize, there are always a group of new artists, that I think personally make the show so very good," said Haukness.
Patrons are asked to donate $5 for access, and proceeds from the event support the Greater Reston Arts Center; it accounts for one-third of GRACE's annual budget.
"It's go time, we're excited, the artists are ready to come," said Harrison.
"It's been a dynamite show for me," said Herzog, the artist from Minneapolis.
Volunteers Needed
More than 30,000 people will interact with more than 200 artists at Reston's Fine Arts Festival this Saturday and Sunday, May 16-17.
In fact, event organizers plan for the possibility that 50,000 people will attend.
"We are a very small staff of five," said Erica Harrison, Festival Director and associate curator and adult program director at Greater Reston Arts Center.
"We absolutely rely on the community," she said, from handing out programs, to being liaisons between event organizers and artists, and more.
"It is only successful if we can get enough to help," she said.
See northernvirginiafin… or GreaterRestonArtsCenter (GRACE) at www.restonarts.org.
Why This Matters
Greater Reston Arts Center was founded in 1974 by artists and art lovers in Reston and promotes involvement in contemporary visual arts.
The Festival provides one third of the GRACE's annual budget, said Erica Harrison, Festival Director.
GRACE provides year round programs including eight exhibitions, education programs for youth and adults including summer camp sessions, and special events, such as the Northern Virginia Fine Arts Festival this coming weekend.
Grace Art, formerly known as Art in the Schools, reaches 20,000 students in more than 40 schools each year, said Harrison, and supports and supplements local children's art experience in school.
GRACE also presents contemporary art that illuminates new ideas and promotes dialogue between artists and audience.
Patrick Dougherty recently installed his art sculpture made of tree saplings in Town Square Park. The sculpture can be explored by viewers inside and out.
Patterson Clark's exhibition of papers, prints, inks and frames are made from exotic invasive vegetation such as English ivy, white mulberry, garlic mustard and bush honeysuckle that he removed, with permission, from local parks and private lands.
"This harvest of alien weeds yields an abundance of material, which is processed into fuel, chemicals, pigments, lumber, paper fibers and cordage, all of which are reassembled in the studio in a form that refers to its material source," according to Clark.
His exhibition will be on display at the Greater Reston Arts Center, 12001 Market Street, Suite #103, in Reston, through July 3.
See www.restonarts.org.