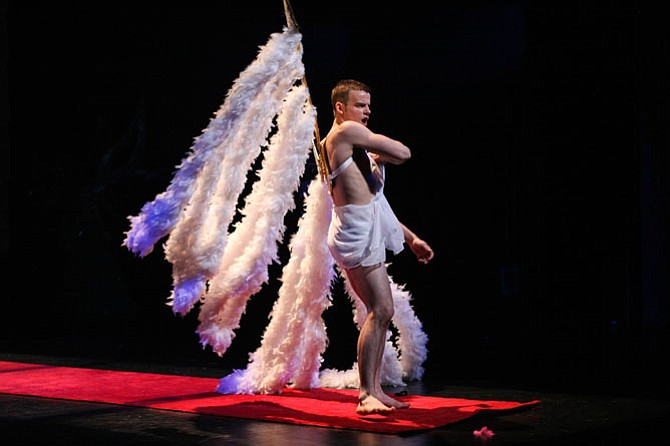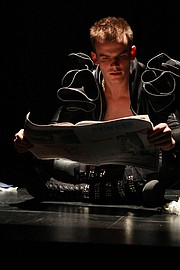 Synetic Theater in Crystal City presents "A Tale of Two Cities" starring company member Alex Mills from May 13 to June 21. Directed by Serge Seiden, the show with dialogue tells what happens when you put together an aspiring drag queen and a crying baby. To calm the child down, Mills enacts the entirety of Charles Dickens's classic, "A Tale of Two Cities" — playing all the characters himself. The show was adapted and originally performed Off-Broadway by Everett Quinton and won the 1989 Obie Award.
Seiden said his goal was to create an entertainment that shocks, moves, and surprises the audience. "It should hint at the pleasures of Dickens's wonderful novel, remind us of outrageous Hollywood screen performances and give us a peak into the boudoir of a fabulous, imaginative drag queen," he said.
"A director's challenge is always to lead a large group of talented collaborators," he said. "First the director has to inspire each artist to develop a vision that complements the director's and then the director has to guide the group through thousands of decisions that will ultimately add up to the performance. The director has to lead all the artists including the actors, the designers, and the choreographer. Ideally, that leadership is invisible."
He added: "The group always feels like it's moving inexorably and clearly toward a goal everyone's aligned to. Very often there are discoveries along the way, brilliant ideas and obstacles, that require a change in course and the director has to take responsibility for that and forge a new path. It's very exciting."
Seiden has led The Studio Theatre's production department for 17 years, overseeing the creation of more than 150 shows and managing a team of 12 production artisans. He said the most fun for him was learning so much about Synetic Theater and working closely with founder Irina Tsikurishvili, whose contribution to the production is "enormous."
Show Producer Paata Tsikurishvili, who always loved Charles Dickens, said: "In every single one of his books, (Dickens) creates such a rich panorama or characters, where even the 'bit players' — the little cameos — stand out." Tsikurishvili is also the founding artistic director and CEO of Synetic Theater.
He said although he wrote novels, rather than plays, Dickens's work is almost written to be performed — very theatrical, very startling and arresting throughout. "He's a writer whose words are so rich as to have movement in them, of themselves, and I believe that with the physical skill sets that Alex Mills has gained with us, it's a perfect vehicle not just for him, but to showcase the artistic range of the entire company," he said.
He added: "I'm also looking forward to collaborating with Studio's great director, Serge Seiden, to see what he can bring to this. Even more, this was a role that was played by the marvelous Floyd King, a comedic master in D.C. theater for many years, and we welcome the opportunity and challenge to go even farther with this piece, to explore and expand on the energy, vitality and physicality of both Dickens's original work and the very original adaptation of it."
Mills plays the role of Jerry, a young eccentric guy who is not afraid to pursue what he wants out of life. "There is an underlying sense of loneliness that he finds relief through performing as a drag queen in which he has a sense of community," he said.
As far as challenges, he said the hardest part was not feeling overwhelmed by the sheer volume of content that needed to be memorized. He said it's difficult not to have scene partners to interact with on stage. "I found the specificity of knowing where each character is onstage and making sure I'm making it clear to the audience to whom I'm talking," he said. "At any given time there are up to four different characters 'onstage' together."
Another challenge was making sure he's able to communicate the multiple story lines that are happening at the same time. "First, there's the story of Jerry and his needing to get ready for his performance; then there is the story of Jerry finding this baby and how he interacts with him and how to get him to go to sleep, and finally, it's the story of 'A Tale of Two Cities' itself," he said. "So, there's a lot going on."
He said he hopes the audience "will take away an appreciation of storytelling and, hopefully, will have a renewed sense of how stories can be communicated with just one person and how it stretches the imagination."
He added: "From my perspective, I hope the audience empathizes with Jerry, someone who is living an alternative lifestyle and loving it. Especially in the times we live in now, where LGBTQ issues are at the forefront of the political map, I think it's great for the audience to see how a gay, cross-dressing man can have all the same love and compassion for their child as anyone else."
"A Tale of Two Cities" will be performed May 13 to June 21 at Synetic Theater in Crystal City, located at 1800 S. Bell St., Arlington. The show runs Wednesdays through Saturdays at 8 p.m.; and Sundays at 2 p.m. Tickets are $35 and up. Student tickets are $20. Senior citizens and military receive $5 off. Group discounts are available at www.synetictheater.org.