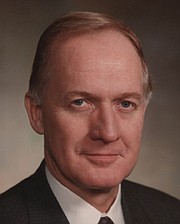 David L. Nelson was born on May 8, 1930 in Omaha, Neb. and died peacefully at home in Alexandria, on April 26, 2015. He was married for 62 years to his high school sweetheart, Jacqueline Jo (Zerbe) Nelson, also from Omaha, Neb.
David obtained his Bachelor of Science in General Engineering in 1952 from Iowa State University and had been awarded a four-year NROTC scholarship during his time there. He was elected to Tau Beta Phi, Phi Kappa Phi and Phe Eta Sigma honoraries, and was elected president of Delta Upsilon social fraternity. He served in the active duty United States Marine Corp from 1952 to 1954, stationed in Japan with the Third Marine Division, and continued in the US Marine Corp Reserve from 1955 to 1961, rising to rank of Captain. Always Semper Fidelis, he demonstrated lifelong loyalty to the Marine Corp, his family, his colleagues, and his friends and neighbors.
After starting his career as an engineer Ingersoll-Rand Company, in Chicago, Ill., David became a successful business executive for companies engaged in process automation for a variety of industries. Before age 40 he became president of Accuray Corp. just after it became a public company, and he joined the Young Presidents Organization (YPO). He continued working until he was 74 years old. His executive positions included, among others: President and chief executive officer of Accuray Corp. from 1970 to 1986 in Columbus, Ohio; president, Process Automation Business, of Combustion Engineering Inc. from 1987 to 1989, in Columbus, Ohio; president, Business Area Process Automation, of Asea Brown Boveri Inc., from 1990 to 1991, in Stamford, Conn. He was a member of the board of directors of Herman Miller Inc. from 1972 to 1995 and then served as chairman of the board of directors of Herman Miller Inc. from 1995 to 2000, in Zeeland, Mich.
Despite all the titles and honors, David was best known among his co-workers, family and friends as an unfailingly modest man who took the time and had joy in helping others by mentoring throughout his life. He loved his family, including his many collie dogs.
David is survived by his wife Jacqueline, his daughter Nancy Jo Nelson, and his three granddaughters Jacqueline Tai Li Nelson, May Xiumin Nelson and Joey Xiao Lan Nelson, all of whom reside in Alexandria. His son, David John Nelson, parents, Leonard A. Nelson and Cecilia (Steinert) Nelson, and sister, Joey (Nelson) Wilkins all predeceased him. David is also survived by his brother-in-law and friend, Jim Wilkins and his wife Scotty Wilkins, residing in Denver, Colo.; his niece Sid (Wilkins) Barth and her husband Tim Barth, residing in Findlay, Ohio; his nephew David Wilkins and his wife, Katie Wilkins, residing in Denver, Colo., and his great nieces and nephew, Sarah Wilkins, Grace Wilkins, Laura (Barth) Bayne, Molly Baine, Emily (Barth) Stonebrook, and David Barth.
A celebration of David's life will be held at 11 a.m. at Fairlington United Methodist Church on Saturday, May 23, 2015, with a small reception following at the church. In lieu of flowers, David's family suggests that tax deductible donations be made in David's honor to Doctors Without Borders (Medecins Sans Frontiers), to support their work in Nepal following the recent earthquake and other medical missions worldwide. Donations can be made by mail to Doctors Without Borders USA, PO box 5030, Hagerstown, MD 21741-5030, or be made online at:
http://www.doctorswithoutborders.org/support-us/other-ways-give/tribute-giving.