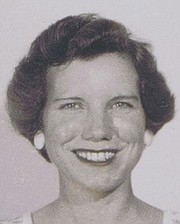 Dorothy Riley Owen, 94, of Alexandria, died on April 30, 2015. She was the beloved wife of the late Jack S. Owen for 66 years.


Born on July 7, 1920 in Hillsborough, N.C., one of 13 children of the late Alexander and Novella Watkins Riley, she attended the Hillsborough public schools and was an active member of the Eno Methodist Church. She attended college at UNCG and Duke University, majoring in Pre-Med Business.
Dorothy left college to support the war by working for IBM at Fort Bragg, N.C. While there, she met First Lieutenant Jack S. Owen and they were married on May 15, 1942. His distinguished military career and her love of travel took them to many states and overseas to Greece and France.
As wife of the Assistant to the Greek Military Attaché, she learned to speak Greek and entertained international diplomats, military officials, and King Paul and Queen Frederika of Greece at the attaché parties. Throughout her life, Dorothy was devoted to her family and friends and she is greatly loved and missed.

She is survived by her sons and their wives Robert Owen and Lyn, John Owen and Beth, her daughter and her husband, Genie Safriet and Philip, grandchildren Mark Owen, Nathan Owen, Stephen Owen, Annie Stinson, and Riley Owen, and great grandchildren Owen Stinson and Alice Stinson.
A memorial service will be held at Trinity United Methodist Church in Alexandria and internment will be at Arlington National Cemetery, Arlington.