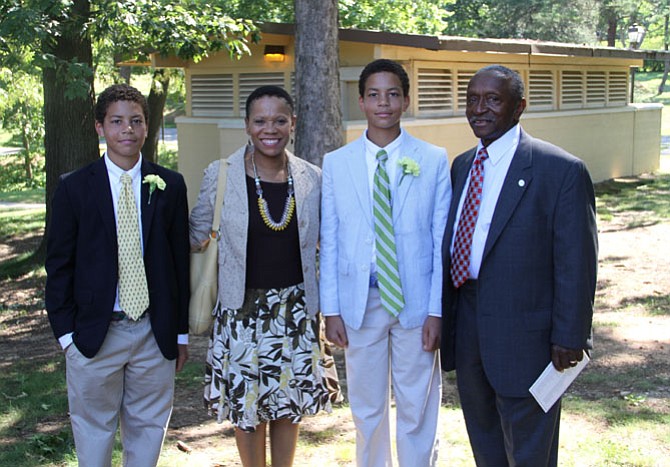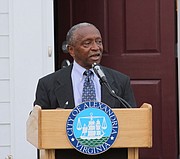 For nearly 60 years, Melvin Miller was a fixture in Alexandria, known as a civil rights activist and the architect of affordable housing across the city. A longtime leader of the Alexandria Redevelopment Housing Authority, Miller died suddenly May 10 at the age of 83.
"His commitment to equal rights and justice permeated everything he did," said ARHA executive director and CEO Roy Priest, a friend of Miller's for 45 years. "From serving on the school board to equity in education, Melvin was committed to making sure people were treated with respect and dignity."
Born Albert Melvin Miller on Nov. 14, 1931 in Savannah, Ga., Miller grew up in Haddonfield, N.J., where he graduated from high school at 16. He went on to attend St. Augustine's College in Raleigh, N.C.
"It was the first place where people made me think I could do something meaningful," Miller said in later years.
He graduated from Howard University law school in 1955 and moved with his wife Eula to Alexandria in 1958 after serving two years in the army.
His criminal law practice quickly turned to civil rights activism as he did pro bono work on school desegregation issues. Miller served as spokesperson for the Secret Seven, a group of African Americans who met regularly to study issues affecting their community and work to improve the situation.
In the 1970s, Miller was instrumental in drafting resolution 830 that led to an agreement between the city and ARHA that no public housing in the city would be destroyed unless there was a provision for one-for-one replacement, an agreement that still underlies the city's housing policy.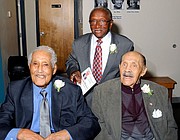 "I think Melvin's biggest contribution was not only in maintaining affordable housing, but integrating it across the entire city and the community as a whole," said Connie Ring, a fellow ARHA board member and friend of Miller for 50 years. "That's a great legacy to leave behind."
A longtime member of Meade Memorial Church, Miller, along with his wife Eula, was named a Living Legend of Alexandria in 2008 and elected to the Living Legends board of directors in 2012.
"He was a tremendous resource on Alexandria's recent history especially as it related to the civil rights struggles of the '60s," said Living Legends founder Nina Tisara. "His death is a profound loss to Alexandria, to the Living Legends board and to me personally."
Miller unsuccessfully ran for City Council in 1963 and for mayor in 1976. He was appointed to the ARHA board in 1970, serving as chair until 1977, when he returned to the U.S. Department of Housing and Urban Development.
"His commitment to equal rights and justice permeated everything he did."
— ARHA executive director and CEO Roy Priest
Miller was a member of the School Board from 1986 to 1993, serving as chair from 1990 to 1992. He was appointed to the State Council of Higher Education by Gov. Linwood Holton in 1971 and served in that capacity for eight years. Miller was reappointed to the ARHA board in 2000 and served as chair from 2001-2012.
"What sticks out with me most about my father is how much he really loved people," said Miller's son Marc. "He may have disagreed with someone's policies, but he always cared about them as a person."
Marc Miller also said his father was devoted to his grandchildren.
"Dad scheduled his life around watching his grandsons play sports," Marc Miller said.
Marc Miller said his father was watching a Saint Stephen's & St. Agnes lacrosse game May 5 when he felt ill. He was taken to the hospital but released May 9 and was feeling fine. On May 10, he suffered a major cardiac event around 10:30 a.m. and died on the way to the hospital.
Miller is survived by his son Marc and daughter-in-law Mary, daughter Ericka, daughter-in-law Vicky McCaulley and four grandchildren: Max, 21, Chris, 18, and twins Bennett and Zachary, 17. He was predeceased by his son Eric in 2005 and wife Eula in 2011. Funeral arrangements are still pending.