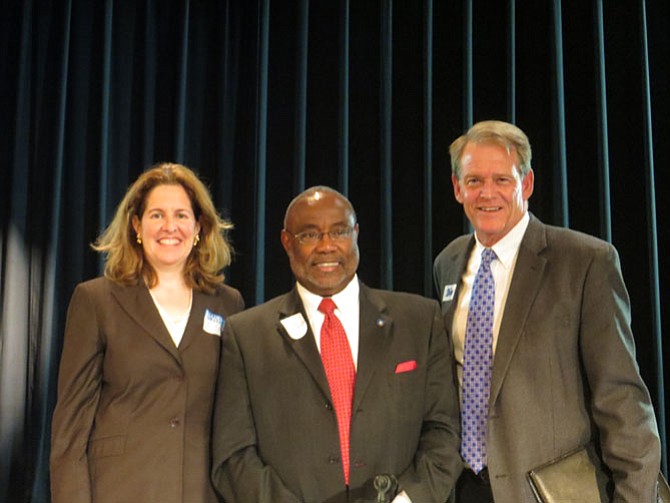 Incumbent Mayor William Euille defended his record of revitalizing Alexandria neighborhoods with new businesses. Vice-Mayor Allison Silberberg emphasized the importance of protecting Alexandria's historic districts, citing her dissenting votes against waterfront development. Former Mayor Kerry Donley said that the city needs "smart growth" and highlighted his role in bringing the Patent and Trademark Office (PTO) to the Carlyle neighborhood.
The third mayoral debate, hosted by the Alexandria Chamber of Commerce on May 18 in George Washington Middle School, was largely a retreading of the familiar battle lines established by the three mayoral candidates.
Much of the debate centered around the economic future of the city. For Donley, this meant focusing on economic development in Potomac Yard and the Carlyle Area. In Carlyle, Donley believes the presence of the PTO and the impending opening of the National Science Foundation should trigger a rebranding and remarketing of the area into a major science-industry hub.
Euille said he didn't differ with Donley in their beliefs on what the right kind of development for Alexandria is. In addition to development at Potomac Yard, Euille also pointed to Landmark Mall as an area primed for redevelopment.
While Silberberg said that commercial growth must be balanced with preserving historical districts, she also noted that there are opportunities for light industrial development in the Eisenhower West area of Alexandria.
As three Democratic candidates, there were several topics where the candidates universally agreed. All of the candidates spoke in favor of Alternative B at the Potomac Yard Metro Station. Each candidate also cited sewage and stormwater drainage as one of the biggest infrastructure problems facing Alexandria.
In their closing remarks, Donley and Silberberg expressed frustration with recent trends in development and the city's economy.
"Our revenue base is not growing and a structural deficit threatens this city," said Donley, saying the impact of these economic trends is being felt by West End residents near Fire Station 210.
"This is about our future," said Silberberg. "We need to plan carefully and thoughtfully. Developing our way out of this hasn't worked."
Euille acknowledged that the past 8 years have been a period of economic hardship, but emphasized that this was a regional and even national issue.
"Things could have been better," said Euille, "but through my leadership… we have weathered the storm."
The three candidates will face off in the June 9 primary to be the Democratic nominee in the November mayoral election.