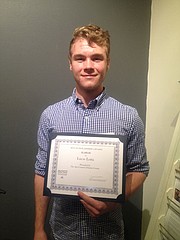 On May 13, the Council for the Arts of Herndon announced the winners of the 2015 Tech Arts Competition at a special reception, held in honor of student artists. First, second, and third-place winners from the fields of digital art, digital photography and digital animation were awarded, and the winning artworks will be displayed at ArtSpace Herndon in an exhibit titled "Technology Changing Art" through May 24.
Speaking at the reception were President of the Council for the Arts of Herndon (CAH) Michael O'Reilly, and Executive Director of the CAH Signe Freidrichs. "I loved the artwork this year," said Freidrichs. "The animation keeps getting more and more sophisticated! Falls Church High School program in animation is fantastic. Animation Judge Tim Ingle was really overwhelmed with how great the entries were. Some really great work comes out of Madison High School, as well as all the other Fairfax County High Schools. Kudos to the teachers who support their students with all their hearts."
The keynote speaker of the event was Chris Doud, Creative Strategies manager for Leidos Corporation. Judging the entries in this year's competition were Keith Naquin, Lee Love and Tim Ingle.
The mission of the Technology and the Arts Competition is to promote students' artistic expression through technologically based media, encouraging students to develop their artistic skills, showcase student talent developed through school curriculum, and add skilled, creative thinkers to the job market. The first Tech Arts Competition was held by the Council for the Arts of Herndon in 2005.
In the category of digital art, winners for third place were Olivia Newell of WT Woodson High School, second place a tie with Jessica Kim of South County High School and David Hyde of Centreville High School. First place went to Callie Brinker of South County High School.
For digital photography, Alyssa Hepworth of Fairfax High School won third place, Rebecca Posada of Woodson High School second, Hannah Goeller of South County High School won first place.
In the categories of digital animation, third place went to Wes Rogers of Falls Church High School, second to Max Johnson of Falls Church High School and first prize went to Lucas Lotta of McLean High School.
Janay Turner, business manager with the Arts Council of Fairfax County, presented a $1,000 Uphoff Scholarship award to Lucas Lotta, first prize winner from the digital animation category from McLean High School. The Uphoff Scholarships jury panel consists of 18-20 arts professionals and rotates on an annual basis. This panel selects the top ranking portfolios from all seniors across Fairfax County public, private, and homeschooled submissions. The Arts Council of Fairfax County juries the top candidates based on this pre-selection.
Council for the Arts of Herndon (CAH) and Herndon Foundation for the Cultural Arts (HFCA), are planning to merge the two organizations to form a new entity known as Arts Herndon. It is anticipated that Arts Herndon will be a working organization by July 2015, and the two legacy organizations will dissolve as soon as they are able to complete projects begun under their previous names.