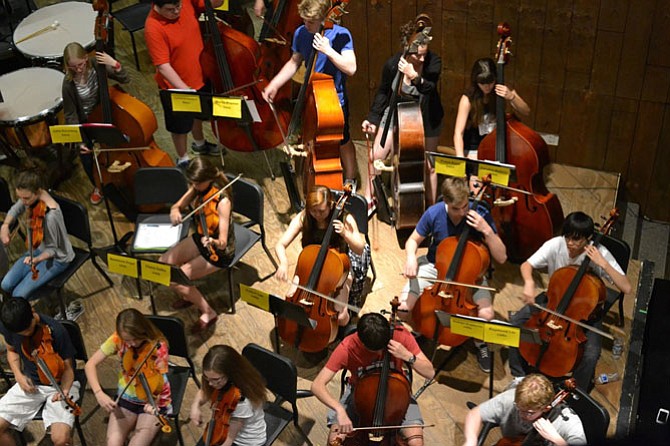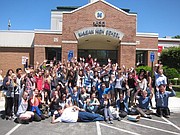 After 21 years of collaboration, Mclean High School and the Detmold Youth German Orchestra came together to celebrate their cultural exchange program Thursday, May 21. Under the direction of conductors Starlet Smith, Florian Wessel and retiring Udö Monks, the two groups have combined to create an international orchestra that plays together once a year.
In 2014, many McLean students traveled to Germany to play in this exciting concert, and were thrilled to have the Germans come to the States this spring. Sophomore Jennifer Min, who attended this trip last year, loves that the exchange allows international friendships to continue.
TO KEEP IN CONTACT with one another, junior Caroline Watkins noted that students keep in touch through social media applications like Facebook, Snapchat, even an international messaging app called "Whatsapp." Overall, despite the many rehearsals and crazy week, the two girls said the experience was worthwhile and very fulfilling.
The German students only had praise for this program as well, as many have come back for their second trip to the United States for this concert. When asked about all the activities they have done over the past few days, there were too many to count. From bike tours, museums, baseball games, even visiting the German Embassy, the students have been kept very busy. German student Eike Klein has loved the experience of a second trip, now having more time to explore the capital, his personal favorite being the Air and Space Museum.
For Mclean conductor Starlet Smith, this concert was especially dear to her heart. Being a former student of Mclean, she once was a participant in this exchange. Reflecting on the experience as both a student and conductor, she said: "When I participated in the German exchange my junior year, it was the first time I ever went out of the country. The second time I traveled abroad, it was when I returned back with the McLean orchestra to conduct. It was amazing." Additionally, the retiring conductor, Udö Monks, was the same individual who conducted her all those years ago. "There was a lot of music being emailed across the ocean!" she laughed, when noting what it was like to coordinate this concert from across the Atlantic. "Even though they only get to know each other for a week, the bond they create is amazing. They stay in touch for a long time. It is a very special thing".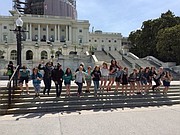 Florian Wessel, the incoming German conductor, loves how the music brings the students together to create a new song. Laughing, he says that: "The German kids like to come live here and be the new son or daughter!" He said that the main goal was to connect people, to create a big family.
THIS EVENT did just that, and during the last song, students from both schools exchanged T-shirts to wear while playing their last piece.
German student Leonie Figge said: "Although we don't know each other, we can live 10 days together just because of music." Teens from both sides of the world experience how amidst diversity, the bonds one can create are real and genuine. As German student Clara Dziuron said: "It is the music that brings us together."