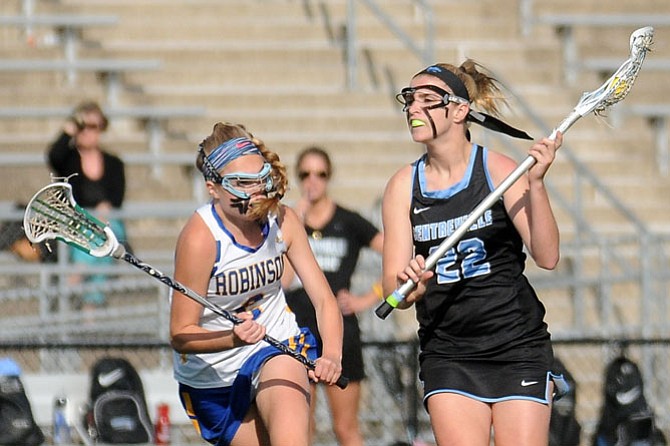 The Robinson girls' lacrosse team entered Friday's rematch with Centreville in search of not only a conference championship, but proof the Rams' regular-season victory over the Wildcats was about more than just yellow cards.
Robinson defeated Centreville 25-20 in each teams' regular-season finale on May 11. The Wildcats received six yellow cards during the game and, by rule, played part of the second half down as many as three players. The Rams capitalized, scoring the final six goals of the contest. Robinson handed Centreville its first loss of the season and earned the top seed in the Conference 5 tournament.
The two teams met again in Fridays' conference championship game. After surviving a Wildcat rally in the second half, the Rams had the proof they were looking for — and a championship banner to go with it.
Robinson defeated Centreville 19-13 on May 22 at Westfield High School, capturing its first conference/district title since 2009, according to results at laxpower.com.
The Rams led 14-5 at halftime and extended their lead to 16-5 with early second-half goals by Taylor Caskey and Elli Kluegel. But Centreville came back strong with a 7-0 run during a 10-minute, 33-second stretch. Senior attacker Reagan Newell's goal with 9:41 remaining cut the Rams' lead to 16-12.
But Centreville would get no closer as Robinson senior attacker Izzy Obregon put one in the net with 7:25 remaining and the Rams scored three of the game's final four goals.
During the regular-season meeting, Centreville received six yellow cards and Robinson received two. On Friday, officials issued Robinson three yellow cards and Centreville one.
"We just wanted to prove to them it wasn't the yellow cards," Caskey said, "it was our ability to stay in the game and keep our heads strong."
Robinson improved its record to 15-1 and entered the 6A North region tournament as Conference 5's No. 1 seed. Centreville dropped to 11-2 and entered regionals as Conference 5's No. 2 seed.
"We knew that we were the better team and that we did come out on top [during the regular season] and we proved it," Robinson sophomore attacker Katie Checkosky said. "We really wanted to prove it again and reiterate that we were the better team."
How much confidence did the Rams have after beating the Wildcats during the regular season?
"A lot of confidence," Checkosky said. "We knew we were going to be seeing them again because they're a great team and they have great players."
While Centreville is led by co-conference Players of the Year Caroline Wakefield and Newell, it was the Rams who came out strong Friday, building an 8-2 lead in the first 12 minutes. After Wakefield scored her first goal of the evening with 12:13 left in the opening half, Robinson responded with four straight goals, taking a 12-3 lead when Obregon scored with 8:11 on the clock.
Goals by Wakefield and Newell cut the Robinson advantage to seven, but junior attacker Kaitlin Luccarelli and Caskey each found the back of the net to extend the Rams' lead to 14-5 at halftime.
After a slow start, Wakefield and Newell picked it up in the second half. Newell had three goals and an assist during Centreville's 7-0 run, and Wakefield added two goals and an assist.
Newell, who will play for James Madison University, finished with four goals and two assists. Wakefield, who will play for the University of North Carolina, had four goals and an assist.
"I think our defense played so much better," Robinson head coach Liz Case said. "… Our goalie did amazing. [Danielle Valenti], she came up with great saves. … I think as a whole, we realized how dangerous [Newell and Wakefield] are on the field and we … were going to do everything we can to stop them and play good, solid body defense."
Sophomore attacker Elizabeth Murphy and freshman attacker Emily Marciano each scored two goals for Centreville. Senior attacker Kara Waddell had one.
Robinson's Checkosky, Caskey, Obregon and Kluegel each scored four goals. Luccarelli finished with two goals and Mackenzie Schuler had one.
Checkosky tallied four assists.
"Today, obviously it proved that we are a good team and we are able to play and we show up and play," Case said. "I'm just really glad that they were able to prove themselves again."
Obregon, Checkosky, Caskey, Schuler, and Kluegel each earned first-team all-conference honors.
Centreville freshman midfielder Paige Richbourg and junior midfielder Madison Duncan were also members of the all-conference first team.