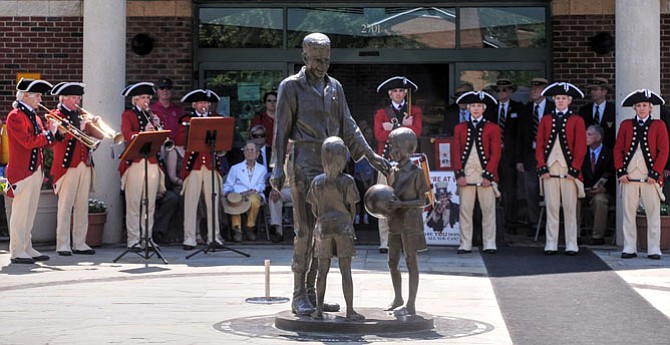 See more Memorial Day photos on Facebook.
The sounds of trumpets and flutes rose in the air as the musical prelude to the annual Memorial Day ceremony at the Vietnam Veterans Memorial in the Captain Rocky Versace Place began on Monday morning, May 25. The musical prelude was performed by the Historical Trumpets and Flutes of the U.S. Army Old Guard Fife and Drum Corps.
Following the prelude, a member of the U.S. Army Old Guard honor guard carried the Medal of Honor flag through the plaza. He was followed by Seamus Greiner of Boy Scout Pack 522 and American Heritage Girl Chloe Holloway of American Heritage Girls Troop 1381 carrying the American flag and the POW flag to the flag poles.
The American Heritage Girls led those gathered in the Pledge of Allegiance after the flags were raised. Deacon Steve Dixon of St. Rita's Parish gave the invocation. Col Kevin Rue hosted and served as master of ceremonies, recounting Nick Rowe's story of Rocky's capture and bravery during their joint captivity. Following the reading of the 68 names engraved on the monument walls, members of the U.S. Military Academy Class of 1959 collectively placed the traditional wreath at the foot of Rocky's statue with Al Phillips and Mart Lidy doing the honors.