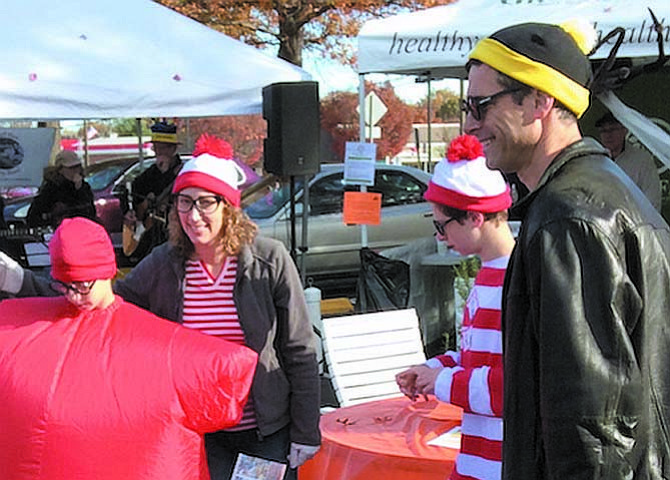 Halloween fell on Saturday this year, and the farmers market was filled with vendors in costume with treats for everyone. Pumpkin was the theme, and Dor Niaz, owner/chef of Zamarod, Emily Doerman Frizell, owner/chef/dietitian of Nutritious and Delicious, and Lisa Jackson, owner of Carpe Diem Wellness demonstrated an array of pumpkin recipes, showing the many flavors, textures and aromas that can be enjoyed from a single vegetable.
At the second annual Healthy Snack contest, Steven Kurtz was the winner, as judged by Lisa Jackson and Pericles Silva of Greenfare, based on the healthy ingredients in the recipe - medjool dates used instead of sugar, almond and coconut flour instead of wheat flour - and the excellent shape and perfect degree of cooking, rendering a tasty, chewy and healthful cookie.
Thirteen-year old Great Falls resident, Steven Kurtz, has a passion for baking. He also has autism. By the age of seven, Steven knew that he wanted to be a professional baker. His family took that passion and turned it into a homeschool curriculum to teach Steven math, science, life and social skills, geography, reading and writing. Steven researches recipes, shops for ingredients and bakes weekly as part of his homeschool program. His specialties include cookies, cupcakes, quick breads and pretzels.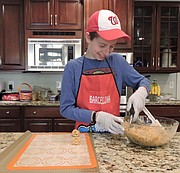 For the healthy baking contest, Steven used a recipe by Talia Fuhrman that his aunt introduced to him a few years ago. The original cookie recipe called for white beans. Steven replaced the white beans with pumpkin, a seasonal ingredient that was being highlighted at the Great Falls Farmers Market.
Inspired by Steven, the Kurtz family has founded Whippourwill, a nonprofit bakery aimed at employing young adults with disabilities. Whippourwill will be selling Steven's creations just in time for the holidays in November and December at the Great Falls Farmer's Market. Visit www.whippourwill.org for more information.