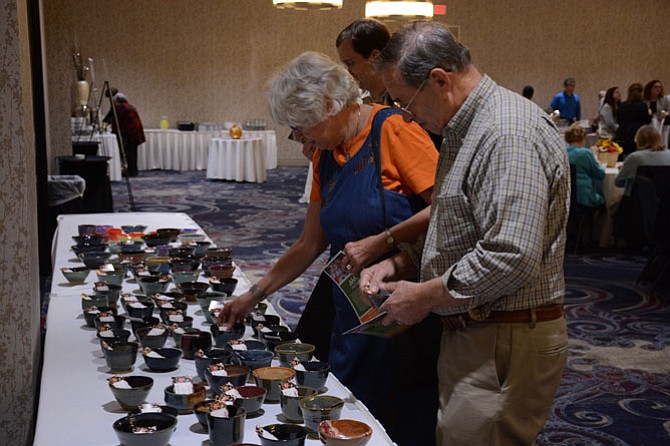 Kady Wohlfarth of Alexandria spent two months of her off days from the Alexandria Wegmans prepared food section to create 100 clay bowls. Hers accounted for one-third of the bowls at the "Empty Bowls" fundraiser and awareness-raising event for the Capital Area Food Bank.
For their donation, guests at the Hilton Hotel in Springfield on Oct. 29 were able to sample soups from numerous local businesses and choose a bowl made by Wohlfarth or one of over a dozen other contributors.
Paty Funegra, founder of Capital Area Food Bank food assistance partner La Cocina VA in Arlington, said the bowls would be "not just a beautiful fixture in your house, but a daily reminder of the power of giving."
In 2014, with the help of 444 food assistant partners in Fairfax County, Washington, D.C. and Bethesda, Md., the Capital Area Food Bank distributed 42 million pounds of food.
"It's absolutely amazing knowing the works of art can take on this humanitarian element," said Wohlfarth, a Kingstowne resident. "They were created with that in mind. I'd do this again and again."
Capital Area Food Bank president and CEO Nancy Roman explained that there's a misconception only major cities have food insecurity problems. "Hunger is right here," she said. "Eighty percent of the people we serve are working poor."
Roman showed a series of "hunger heat maps" that showed concentrated populations outside of Washington, D.C. as well as in the city. "Work lies ahead, getting out into the suburbs," she said, and referenced a Capital Area Food Bank produce facility hub in Lorton.
"We have a moral imperative to get food to people," Roman said, "and the right kind of food to people."
George Madill of the Bryn Mawr area runs one of the Capital Area Food Bank food assistant partner food pantries in Foggy Bottom, Washington, D.C. He and his wife Fran came to the Empty Bowls event to be "part of the support." "They help us, we help them," he said.
Another major partner for Capital Area Food Bank is the grocery chain Wegmans, which Roman said has already donated 22,590 pounds of food this year from the Alexandria location alone. That total includes about 2,500 pounds that went to the Capital Area Food Bank partner Lorton Community Action Center.
"More important than just food," said Diane Cullo, the community outreach representative for Wegmans' Alexandria store, "is the volunteers. We're going neighbor by neighbor to root out hunger."
Among the participating artists who contributed bowls and materials are the Accokeek Foundation, Anne Meissner, Capitol Hill Arts Workshop, Clay Queen Pottery (Alexandria), DC Clay, Eastern Market Pottery (Washington, D.C.), Eastern Mennonite High School (Harrisonburg), Elke Seefeldt, Emilie Britton, Hinckley Pottery, Jane Callen GlassArt, Jodi Walsh, Madison High School (Vienna), Marissa Vahlsing, The Mud Hut, Paint Your Own Pottery (Fairfax), The Sheridan School (Washington, D.C.), Toby Rivkin, Wegmans (Alexandria), Wilson High School (Washington, D.C.), the Workhouse Arts Center (Lorton) and 10,000 Villages (Alexandria).
For more information on the Capital Area Food Bank, visit www.capitalareafoodbank.org. An interactive hunger heat map by the CAFB is available online at http://cafb.maps.arcgis.com/apps/MapJournal/index.html?appid=b4906ac11bf74cd781c5567124be9364.