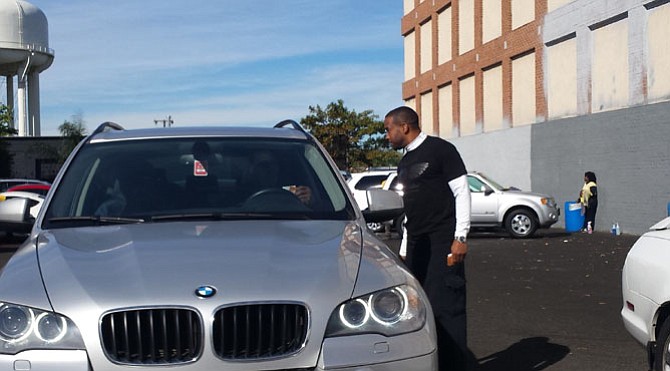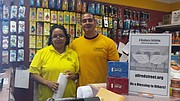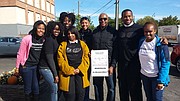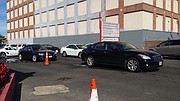 North Henry Street's Yates Carwash and Detail Center got a special visit from members of Alfred Street Baptist Church (ASBC), who arrived early Saturday morning to deliver an unexpected surprise to patrons and employees.
In September, ASBC kicked off a kindness initiative dubbed "Hidden Halos," where members of the congregation perform acts of kindness for people in their communities, at schools, jobs and in other public places, and document their efforts and experiences online at hiddenhalos.org. The project was launched in honor of Pastor Howard-John Wesley's seven years leading ASBC.
"Every day, for the next 30 days, we invite you to do one random act of kindness for someone you don't know," reads the website.
On Oct. 10, unsuspecting patrons of Yates Carwash and Detail Center received free carwashes, and a breakfast of doughnuts and coffee from members of ASBC. Rather than wash the cars, members handed out coupons that allowed patrons to get their cars machine-washed on that day, for free.
"It feels really great. The weather is beautiful. Everyone is in good spirits," said August Slater, a volunteer.
"[Social media] is how I found out about this. I thought, since I'm not doing anything else, why not," said member Jackie Ross. ASBC is using tools like Facebook and Instagram to help spread the word about the campaign, and while these surprise efforts typically excite recipients, not everyone is comfortable accepting such generosity.
"People are shocked and amazed, but some are apprehensive because they are not used to receiving kindness," said Wesley.
"I was turned down by a man who said no thanks and that he didn't need it," said Slater. "I don't see why you'd turn down a free car wash."
One patron admitted to feeling badly about accepting the generosity because she was not Christian.
The volunteers accompanied Wesley, who also helped hand out coupons. Frequently seen with a doughnut in hand, he laughed and joked about convincing one patron to take the coupon. Wesley frequents the car wash, and one day decided to purchase the car wash of someone in line behind him.
"It's a nice gesture," said Linnett Scott, who was there early on Saturday. The event lasted from about 8:30 that morning to 11:30, and there were 15 volunteers in attendance.
"The customers were super happy," said owner Jorge Mendoza at the event's conclusion. "This was an awesome idea and event."