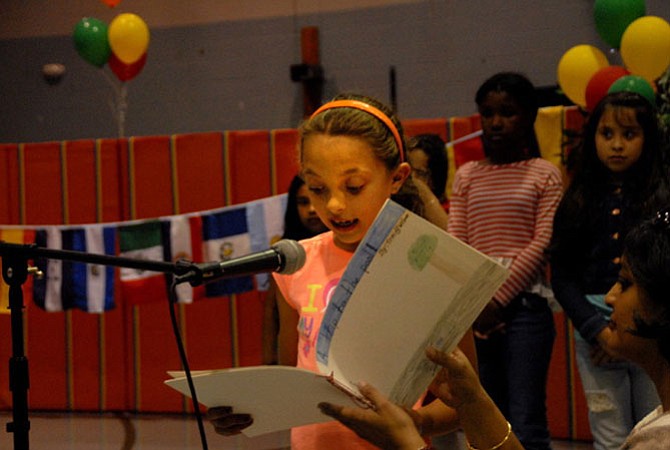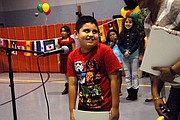 As part of Hispanic Heritage Month, writer/artist/educator Sushmita Mazumdar led a six-session Family Legend Bookmaking Workshop for children participating in "Book Club" at the Cora Kelly Recreation Center, 25 West Reed Ave. With the theme, "Sharing Stories of Heritage Through Bookmaking," the children interviewed family members, wrote a text from the oral re-telling by their loved one, and made their stories into handmade, illustrated books. Bookmaking Workshops have been offered since 2011 by Family Legends, an activity of Living Legends of Alexandria.
Hispanic Heritage Month at Cora Kelly culminated with a festival for children and their families that featured three Family Legend students reading their stories aloud to hundreds of adults and children, recognitions for academic excellence, Colombian dance presentations and traditional Hispanic dishes for all to taste.
Bookmaking workshop students Trinity Wilson, Odalys Cortez, and Luis Saravia read their stories as part of the program. Luis was also recognized for Academic Excellence.
The crew of M' oonk Films Devoted directed by Trey Carswell, videotaped the event and Leroy Amankrah of DMV Podcast aired audio interviews with Harold Little, regional program director for the Department of Recreation, Parks and Cultural Activities; Program Master of Ceremonies Jose Martinez; Living Legends Founder Nina Tisara and Board member Bill Kehoe. Listen to the podcast at https://www.podbean.com/media/share/pb-vc8w2-59857b.