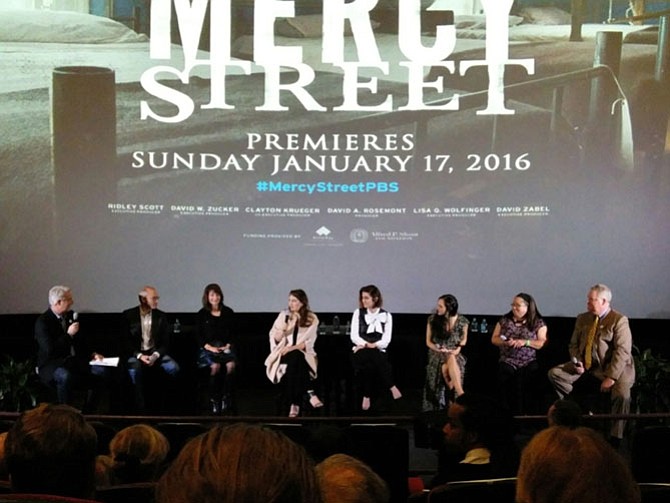 Actresses and producers from the Alexandria-based PBS series "Mercy Street" walked the red carpet prior to a screening of the Civil War-era drama to kick off the Alexandria Film Festival Nov. 5 at the AMC Hoffman Theaters.
U.S. Rep. Don Beyer joined city officials and invited guests for a preview of the six-part miniseries, which will make its nationwide debut Jan. 17 following the international hit series Downton Abbey.
The brainchild of Ridley Scott, David W. Zucker, Lisa Q. Wolfinger and David Zabel, the "Mercy Street" cast includes Mary Elizabeth Winstead (The Returned), Josh Radnor (How I Met Your Mother), Gary Cole (Veep), Norbert Leo Butz (Bloodline), McKinley Belcher III (Show Me a Hero), Jack Falahee (How to Get Away with Murder), AnnaSophia Robb (The Carrie Diaries), Tara Summers (Hitchcock) and newcomer Hannah James, who is a native of Virginia.
The drama follows the lives of two volunteer nurses on opposing sides of the war — New England abolitionist Mary Phinney (Winstead) and Confederate supporter Emma Green (James) — and is inspired by memoirs and letters from real doctors and nurses from that time. It takes place in a luxury hotel-turned-hospital in Alexandria, the longest occupied Confederate town during the war.

"What a wonderful, historic town," said Summers after touring some of the Alexandria locations featured in the series, which was filmed in Richmond and Petersburg. "I am from Britain so much of this Civil War history is new to me. But I am glad to experience for myself the city where 'Mercy Street' takes place. It is an exciting project and I am thrilled to be a part of it."