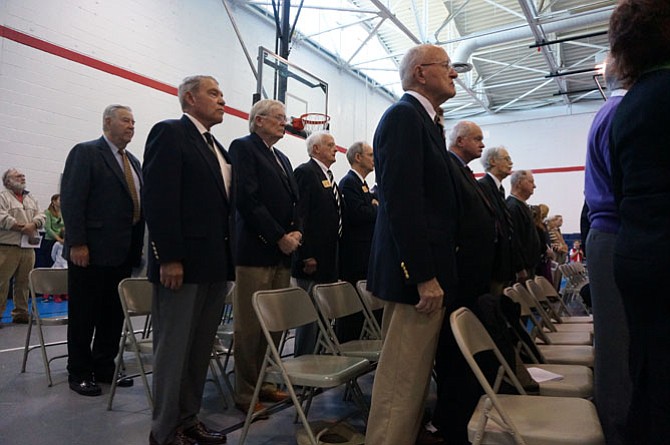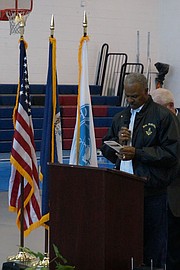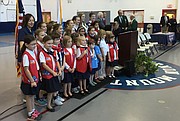 The Friends of Rocky Versace hosted the 14th annual Veterans Day ceremony Nov. 11 at the Mount Vernon Recreation Center.
The ceremony honored Captain Rocky Versace, a Vietnam prisoner of war who was posthumously awarded the Medal of Honor after being executed by his captors in 1965 following two years of imprisonment. Also honored were the 67 Alexandrians who died during the Vietnam War and all veterans who have served the nation through military service.
Versace, who grew up on Forest Street in Alexandria, went on to graduate in 1959 from the U.S. Military Academy at West Point. West Point classmates of Versace raised the funds for the Rocky Versace Plaza that bears the names of each Alexandrian who died during the Vietnam conflict. Following the reading of each individual name, members of the USMA class of 1959 placed a wreath at Versace's statue.
The ceremony opened with members of American Heritage Girls Troop VA 1381 from Saint Rita's Catholic Church leading attendees in the Pledge of Allegiance. Vocalist Shelia Whiting led the audience in the singing of the Star Spangled Banner and bugler Paul Berman from Buglers Across America performed "Amazing Grace" and "Taps."
Father Daniel Gee from Saint Rita's Church gave the invocation and closing prayer.
"It is an honor to be part of today's ceremony," said McArthur Myers, who read several names of the fallen. "I went to school and played basketball with some of these men. I will never forgot the sacrifice they have made for us."