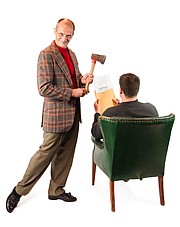 Ongoing
"Ephemeral" Exhibition at GRACE. Through Nov. 14 at Reston Town Center, 11900 Market St., Reston. Explore the nature of non-permanent, three-dimensional works addressing the concept of ephemerality. Presented in conjunction with the Washington Sculptors Group. restonarts.org
One-Man Shows. Through Nov. 14. Exhibit Monday-Saturday, 10 a.m.-5 p.m. The Frame Factory, 212 Dominion Road, NE, Vienna. One-Man Shows from David Cochran and Joseph Sheppard Rogers.
Deathtrap. Time varies. Thursday-Sunday, through Nov. 22. NextStop Theatre, 269 Sunset Park Drive, Herndon. Keep up with the twists and turns… if you dare. Deathtrap is a hysterical yet terrifying thriller sure to delight. $35. www.nextstoptheatre.org. 866-811-4111.
Art/Craft Programs. 10 a.m.-noon. Saturdays/Nov. 7, 14, 21, 28. Reston Art Gallery and Studios, 11400 Washington Plaza, Reston. Nov. 7-Colorful fall leaves. Nov. 14-Marshmallow sculpture. Nov. 21-Paper bag turkeys. Nov. 28-Holiday decorated snack plates. Ages 3-11. www.restonartgallery.com.
Friday/Nov. 13
Soiree-Chamber Series Concert. 7:30 p.m. United Christian Parish, 11508 N. Shore Drive, Reston. The Pro Arte Chamber Orchestra of Greater Washington presents its first Chamber Music concert highlighting the sections of the orchestra with an eclectic, fun and challenging program. Free-$25. 571-483-8444. www.PACOdc.org.
Senior Tea. 1-2 p.m. ArtSpace Herndon, 750 Center St., Herndon. Every month seniors are invited to visit the gallery to view the current exhibit and enjoy a cup of tea on the second Friday of the month. Free. 703-956-6590.
Herndon High JROTC Fundraiser. 5-8 p.m. Herndon Potbelly, 901 Herndon Parkway, Herndon. Please join us for some food, fun and goodwill. Potbelly will donate 25 percent of sales to support Herndon NJROTC.
Friday-Saturday/Nov. 13-14
The Closet's "Everything Christmas Sale." Friday, 4 -7 p.m. Saturday, 9 a.m.-noon. The First Baptist Church of Herndon, 681 Elden St., Herndon. Get a jump start on your holiday decorating or choose something unique for that hard-to-please relative. www.theclosetofgreaterherndon.org.
Saturday/Nov. 14.
Artist Reception Ethereal and Natural Reactions. 7-9 p.m. ArtSpace Herndon, 750 Center St., Herndon. Ethereal is series of abstract, contemporary art paintings by artist Anne Cherubim. In Natural Reaction, sculptor Brian Kirk reshapes and twists steel into new forms using blacksmithing techniques that focus on the beauty of rust as a surface treatment. Exhibit runs from Tuesday, Nov. 3 to Sunday, Dec. 6. http://www.artspaceherndon.com/ethereal-and-natural-reaction. 703-956-6590.
Community Irish Dance. 6:30-10 p.m. Frying Pan Park Visitors Center, 2739 West Ox Road, Herndon. Family Friendly CCE community Irish CEILI Dance featuring music by Old Pitch and Friends. Ceili and set dances are called by Marilyn Moore. $7.50-$35. Borlinset@yahoo.com. 703-631-9179. ccepotomac.org.
Used Book Sale. 10 a.m.-4 p.m. Herndon Fortnightly Library, 768 Center St., Herndon. Stock up on books for the holidays. Fiction, non-fiction, children, adults, romance, history, cookbooks, gift books, etc. Come spend a little, get a lot. Sponsored by Friends of the Herndon Fortnightly Library.
Technology Fair. 1:30-4:30 p.m. Reston Community Center - Hunters Woods 2310 Colts Neck Rd, Reston. Want to learn how to Skype or just use the basic commands of your personal technology device? Stop by the 55+ Technology Fair to have questions answered about any device, new or old. Come learn the basics or advanced tips from the experts—Reston's very own teens. Registration at Ashleigh@reston.org or 703-435-6577.
Saturday-Sunday/Nov. 14-15
Movies and Mimosa-"Goodfellas." 11 a.m. Bow Tie Cinemas, 11940 Market St., Reston. See the classics how they were meant to be see-on the big screen. $5.50, $1 for Loyalty members. bowtiecinemas.com. 703-318-1801.
Sunday/Nov. 15
Jazzart Concert. 5-7 p.m. ArtSpace Herndon, 750 Center St., Herndon. jazz vocal stylist Kitt Potter has a show at ArtSpace Herndon to the backdrop of Ethereal and Natural Reactions. Kitt will be accompanied by Wayne Wilentz (Shirelles, Marvelettes, SKYY) on piano, David Jernigan on bass and Douglas Richardson on drums. $15. http://www.artspaceherndon.com/jazzart-concert/. 703-956-6590.
Salute to Pavarotti. 4 p.m. Reston Community Center, 2310 Colts Neck Road, Reston. Reston Community Orchestra opens its 28th season with a tribute to the opera legend. Free. Please bring canned goods for Thanksgiving Food Drive. www.restoncommunityorchestra.org. 571-449-7095.