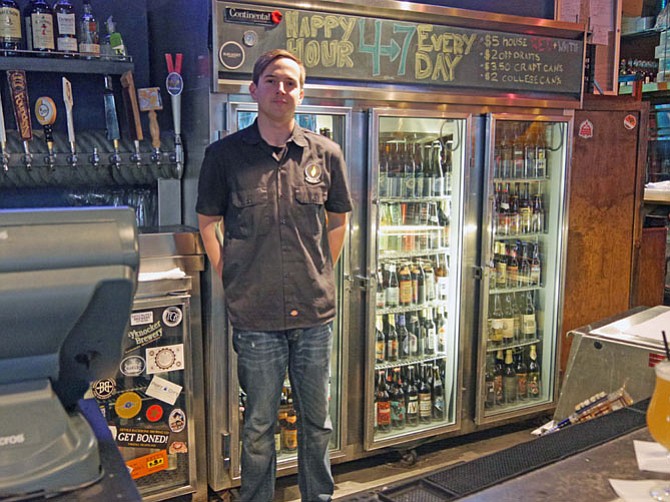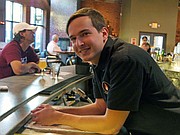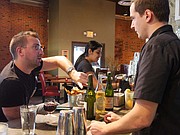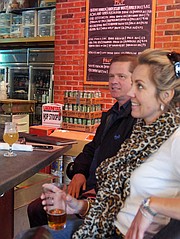 Will Bruder opens a tap at Rustico on Slater Lane. Beer slides down the side of the Pilsner glass. "This is very much a neighborhood beer bar," Bruder said. Eight bar stools are full at 4 p.m. on a Tuesday.
"I know half of the clients. The most fun is when somebody trusts me enough to take my recommendation. I like it when they order a flight which is a sample of four different beer tastes. I start out by asking what they don't like and then go from there," he said.
But he likes to throw in a curve ball once in a while "just to see." He knows the faces and names of the people on the other side of the bar. Bruder likes to establish a relationship with the guests. "Shel is over there but will move to the other end of the bar when he gets a chance. Someone else has taken his usual seat tonight." David Bosetter and Lisa Schulz, two other regulars, are occupying that area. "That's the spot where regulars like to congregate and chat."
Bruder says, while this is very much a beer bar with over 300 bottles and with 30 beers on tap, probably IPAs, Pilsners and Belgium Wits are the most popular. Bruder adds that there is a lot of memory and recall making the service for the clients the most efficient. People also order hard liquor drinks. Martinis are popular with the Manhattan and Old Fashioned cocktails back in style and with gin and tonic a good choice in the summer. Carl Townsend, another bartender here, does a special drink of the month. Bruder looks down the bar to see if everyone seems to be fine or ready to fill up again.
Josh Edelman, manager of the Rustico at Ballston has stopped in to discuss the new Virginia cider selection for the upcoming Virginia Craft Cider Week. He sits at the bar, three open bottles of cider in front of him. Bruder says one of the ciders has a mineral like quality and one has a blue cheese-type aroma. "It should be interesting for the chef to pair with foods."
Edelman says his favorite is Foggy Ridge Mouth. "But it's all a matter of personal taste."
A bar stool changes over as a customer wearing a white baseball hat and Sidwell Friends T-shirt requests a menu, "What is good?" He settles on the carrot humus topped with lamb ragu and served with fresh pita bread. Bruder says a lot of people come in to order food. They like the appetizer selections; "you've got to try the cheese and herb risotto tots."
Bruder has been brewing draft beer at home for over three years. He said one of the interview questions for his present job asked whether he had ever brewed home beer "so I knew this job would be a fit."' Bruder remembers his first one gallon batch of nut brown ale. "I got chestnuts from a local farmer." He pauses — "it was drinkable." In the past year he was able to upgrade his equipment to a stainless boiling tank, a mash tun and a hot liquor (water) tank and a fermenting vessel that gives him more consistency over the product. He moved from his first effort, the nut brown ale, to a hoppy amber ale and then a tangerine vanilla blond ale that "was inspired." Then on to a chocolate milk stout where "I split some of the batch off and conditioned it on oak cubes." Each 5 gallon batch makes 48 bottles which he gives away to friends.
After college Bruder worked for the Transportation Security Administration (TSA) on the front line of security at the airport check point. He said, "I thought if I could change one person's mind a day about TSA, but then government imposed sequestration (automatic across- the- board budget cuts) and reduced my salary so I got an extra job here." Now Bruder works five days a week from 3 p.m. to midnight."
Bruder is always reading beer books and three mornings a week he is an assistant brewer at Right Proper Brewing Company in the Shaw part of D.C. where he is learning the nuances of the craft. He says one day when he has paid his dues he imagines opening a brew pub. In the meantime he pours a stout and leans across the bar to continue his tasting. "I think you'll like this one. Give it a try."