What's Next
Another fundraiser, a cooking demonstration at L'Auberge Chez Francois is planned for January 2016 to benefit the charity, Kids R First. See http://gffnva.org">http://gffnva.org.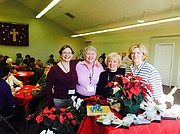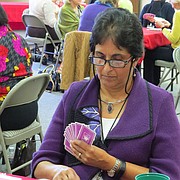 Karen Magley teaches bridge three days a week at Christ the King Lutheran Church in Great Falls.
"Chicken soup for the brain," said Magley, a Great Falls resident. "It makes you think, it keeps those synapses going."
"I love watching the people learn something new. I love each new class find 20 new friends. Whether they learn to play well or not, they come out ahead," she said.
She has taught some of her students for 10-12 years. "Every hand is different," she said. "That's why people come back year after year.'
"No matter how much I've played bridge and think I've seen all the permutations and combinations, the very next turn I get, I say, 'Hmmmm, how do I play this?'" said Holly Kuga.
Last Saturday, The Great Falls Friends and Neighbors Jamboree Club hosted its 12th Annual Bridge Jamboree at Christ the King Church.
The tournament enables Great Falls and Neighbors to give scholarships to adult women returning to academics.
The group raised more than $5,000 at Saturday's event.
A luncheon for award recipients is held in September at the River Bend Country Club.
About 65 participated, and 60 volunteers helped, including making more than 14 desserts.
Five hours into the tournament, 12 tables were still going strong.
"It's a little different from running a marathon," said Kuga, of the social and enjoyable fundraiser. "We play bridge for a philanthropic purpose."
"It's a good way to find others that play bridge, too," said Magley.
Great Falls Friends and Neighbors has existed for 35 years, and is a result of a 2011 merger of two local clubs, the Great Falls Woman's Club and Newcomers of Great Falls. There are more than 200 active members.
"We'd love to have more men next year," said Magley.
More than 40 Christmas ornaments were sold during the tournament which raises money for the Artemis House, a shelter for women and children fleeing domestic violence.
See http://gffnva.org.