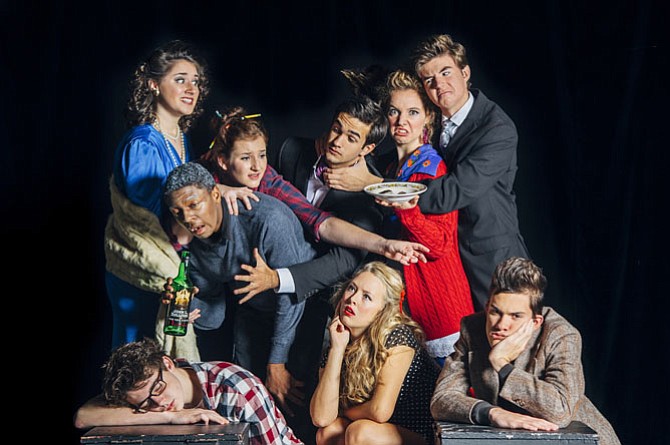 The Rambunctious Theater Company – in partnership with the Robinson Secondary Drama Department – presents Michael Frayn's "Noises Off" on Nov. 19-21 at Robinson's Russell Theater.
Showtimes are 7 p.m. with an additional 2 p.m. matinee on the 21st. The satirical presentation is directed by Robinson's Megan Thrift and features an outstanding team of high school actors and technical crews as they bring this comedy to life.
"Noises Off" is a three-act play that tells a story within a story. The show takes its name from the theatrical direction for sounds heard off-stage. The playwright realized what he was seeing occurring behind the stage was funnier than the actual show on stage.
The premise is that director Lloyd Dallas was hired to helm an Americanized take on a British play and does his best to control an eccentric group of stage actors. During practice sessions, things run smoothly.
However, when Lloyd and his actors begin a series of performances leading up to a Broadway premiere, chaos ensues. Star actress Dotty is quickly passing her prime, male lead Frederick has no confidence and bit actor Selsdon is rarely sober.
The Cappies award-winning Rambunctious Theatre Company Boosters is a nonprofit 501(c)(3) organization. Comprised of community members and the parents of Robinson Secondary School Drama students, the boosters support and help facilitate the school's various events and productions. The boosters host summer drama camps for younger actors and provide scholarships to Robinson students pursuing theatre arts in college. Tickets and additional details are available at robinsondrama.org.
"Noises Off" runs Nov. 19-21 at 7 p.m.; Nov. 21 also at 2 p.m. Robinson Secondary School, 5035 Sideburn Rd in Fairfax. Tickets are $15 for adults, $10 for students.