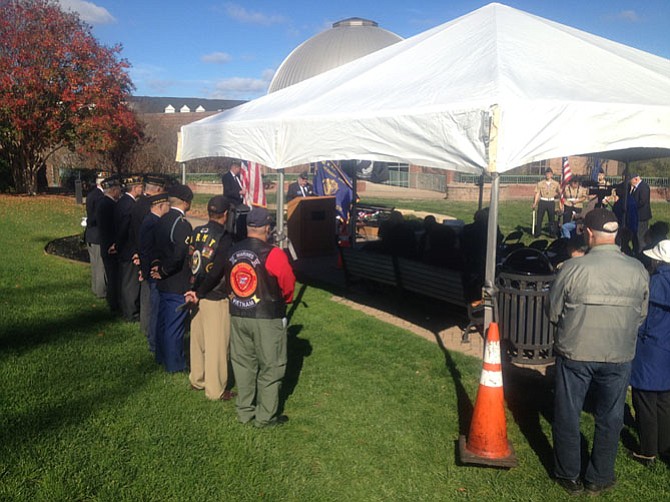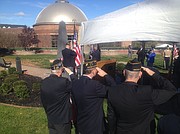 American Legion Post 184 honored veterans with an observance on the Herndon Town Green on Wednesday, Nov. 11. Veterans, active duty members, town dignitaries and citizens gathered on the green behind the Herndon Municipal Center. David Kirby, Commander of American Legion Post 184 and a Town of Herndon councilmember welcomed everyone to the event. Originally celebrated as "Armistice Day" to remember those fallen in combat during World War I, Veterans Day has evolved to honor those who made sacrifices, and thank all who have served and continue to do so. Approximately 80 persons attended the Town of Herndon 2015 observance.
"While we set aside Nov. 11 as a special day to honor and remember our veterans, we should continuously endeavor to serve our veterans as well as they have served their nation. We must honor all of their families and not just with Blue and Gold Star Banners, but with compassionate hearts. PTSD, traumatic brain injury and life-altering war wounds not only affect the veteran, but can also take an enormous toll on the family, as well," said Kirby. Serving as color guard for the event were members of Herndon High School JROTC. Kirby welcomed guest speaker, U.S. Air Force Colonel Paul G. Patton (Ret.), to share a few remarks.
FOLLOWING A SOUNDING OF "TAPS," a benediction was given by Post Chaplain David Womack. Covering the event was Herndon HCTV volunteer Blake Rose. The Herndon Woman's Club served refreshments after the observance at the Municipal Center Lobby. Established in 1939, the Herndon Woman's Club is joining in the Wreaths Across America project to honor veterans laid to rest at Chestnut Grove Cemetery in Herndon.
Wreaths Across America's mission is to remember fallen heroes and honor those who serve. On Dec. 12, at noon, the Herndon Woman's Club in conjunction with Wreaths Across America, will host a Remembrance Ceremony by laying over 400 wreaths on graves at Chestnut Grove Cemetery.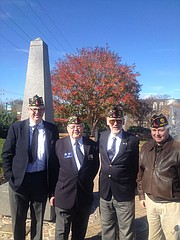 There are an estimated 77,000 military veterans who live in Fairfax County, according to the U.S. Census Bureau. Their service to the nation ranges from World War II to the conflicts in today's news. Fairfax County offers a number of veterans services and programs. Other nonprofits, such as Final Salute Inc., seek to provide homeless female veterans with safe and suitable housing. In December 2014, Fairfax County joined the Mayors Challenge to End Veteran Homelessness. The Mayors Challenge calls for mayors (and other jurisdiction leaders) to make a commitment to ending veteran homelessness in their communities in 2015. "I'm glad councilmember Kirby brought up the issue of homeless veterans, a problem we all need to address," said Town of Herndon councilmember Grace Han Wolf.
THE AMERICAN LEGION Wayne M. Kidwell Post 184, along with volunteers from Herndon High School, assembled an Avenue of Flags on Wednesday, Nov. 11 at Herndon's Chestnut Grove Cemetery. The flags could be viewed from dawn to dusk each Veterans Day. The display this year included 63 veterans' casket flags. American Legion Post 184 is named in honor of the first Herndon resident to be killed in Vietnam. Wayne Minor Kidwell, born on June 9, 1948 became a member of the U.S. Army, and died at the age of 19, in South Vietnam. Veterans organizations, such as the American Legion and Veterans of Foreign Wars, are losing older members and are seeking to attract veterans of recent wars.
"We thank all the veterans for their services," said Herndon Police Officer Michael Berg, who attended the ceremony with other officers, including Herndon Police Chief Maggie A. DeBoard. Many officers in the Herndon Police previously served with a branch of the military, and Officer Berg formerly served with the Air Force as a military bomb and drug dog handler. "I am glad the Town lets us use this place," said Herndon Town councilmember Sheila Olem.