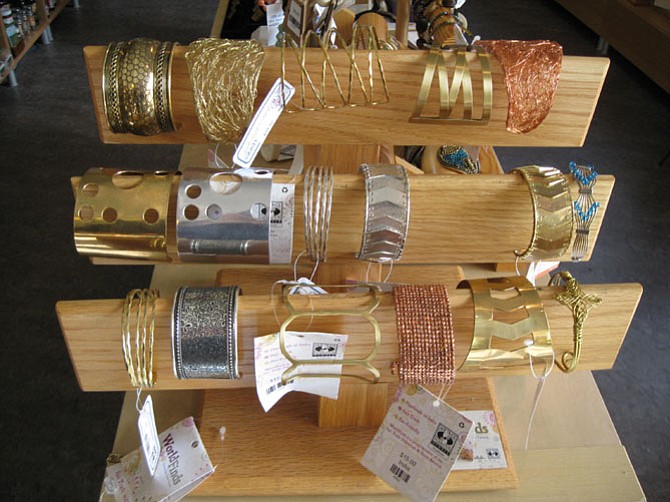 Photo Gallery
Fairfax Gift Guide 2015
Click Photo for Flash
At Fair Trade Winds, which features international products at 10420 North Street in the City of Fairfax, the store is basically 100 percent fair trade.
"The store has unique items from other countries that are handmade," said sales associate Cole Andray. "We make sure they are made under fair conditions, meaning no child labor and no sweat shops."
For this holiday season, the store offers all sorts of gift items -- from Christmas ornaments and stockings, to Christmas cards, to clothing to jewelry to recycled products and food. The goods come exclusively from Southern hemisphere countries like Haiti, India, Africa, Nepal, Guatemala and Peru, among others.
The products are all handmade by artisans and farmers from Southern hemisphere countries. Owner Paul Culler, 59, of Fairfax, who with his wife Lois, runs seven Fair Trade Winds stores around the country, said the artisans are paid a living wage to produce those items. Besides Fairfax, their other store locations are in Bar Harbor, Maine; Boulder, Colo.; Jamestown, R.I.; Seattle, Wash.; Springfield, Ohio; and Stony Brook, N.Y.
"They are brought into the U.S. and we sell them at the retail level," said Culler. "They want nothing more than access to the Western markets." He said that fair trade offers a business model that brings artisans and farmers in the Southern hemisphere together with wholesalers and retailers at stores in the west. "It's a transparent business model," he said.
They work together to come up with a fair living price to make for those products, he said. "Fair trade is not a charity; it's a true business model that brings products to consumers in the west. There's no sweatshops and no child labor."
Fair Trade Winds is located at 10420 North Street, Fairfax, VA Call 703-877-0577 or visit the website at www.fairtradewinds.net.