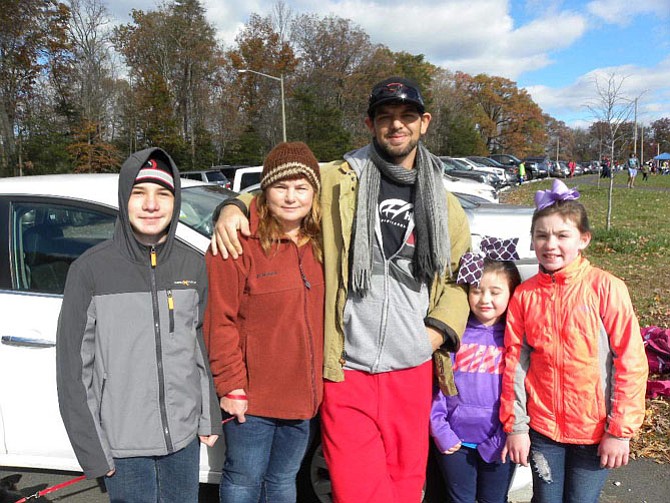 To the children and some of the adults on the fields at South Run RECenter on Saturday, Nov. 14, it was just a lacrosse tournament, another chance to play. They do not know Marcus Garcia, the organizer of the 15 teams participating in the the first American Kidney Classic, that is what he is calling this meet.
They do not know about his brother Matthew Moody, 31, who was diagnosed with Goodpasture Syndrome. They do not know about this uncommon autoimmune disorder that affects the kidneys and the lungs.
But Amy Lane, of Stafford, knows. She works in a dialysis clinic. "I love the fact that it's for the National Kidney Foundation." Proceeds raised by the tournament will go towards the American Kidney Fund. But Lane and her husband, who have children playing in the tournament, are happy that the event is raising awareness for kidney diseases. "Our kids love lacrosse and they know what I do for a living and it means something to them to play [in this tournament]."
MARCUS' FUNDRAISING GOAL is $5,000. The idea started with a conversation between the brothers about how to help people. They came up with a lacrosse tournament to raise money. Marcus mined his lacrosse contacts to set it up. "If we can raise a couple thousand dollars, we can touch lives across the country" through the American Kidney Fund, he said.
The American Kidney Fund, AKF, provides financial assistance to patients undergoing treatment for kidney diseases. Martin McNutt, of AKF, said that events like the tournament help raise awareness to the 30 million people affected by kidney disease in the United States and is an opportunity to raise funds so patients can benefit from the services AKF offers.
Marcus, 22, grew up watching his older brother play lacrosse. Matthew was the reason, he took up the game. "He was Superman to me," said Marcus.
When Marcus went off to college in 2011, Matthew moved back home. But there was something different about him. He had been feeling sick and sluggish for a long time but had assumed the tough attitude of "walk it off, it will go away," instilled in him from his high school sports days. He was not feeling right.
"I would take a long walk, all of a sudden, I can feel my heartbeat in my head. I'd walk up the stairs, I can feel my heartbeat in my head and I knew that wasn't normal," said Matthew. Especially not for a 26-year-old, who had always been active and athletic, never broke a bone, never even been in the hospital.
On the day he finally went to the hospital, Marcus and Matthew's mother, Marie Garcia, had just come back from a leukemia walk. Her husband told her that Matthew was not feeling well. A nurse at the Virginia Cancer Specialists, Marie did a check on her son, looking at his eyes, his fingers.
"She noticed I had absolutely no blood left in my body. She threw me in the car right away and took me to the hospital," said Matthew.
"I had to coax him to get to the hospital. He kept saying, 'After the Redskins game,'" said Marie.
"She basically saved my life," said Matthew.
He was in kidney failure. He was 26 years old.
Goodpasture Syndrome occurs in 0.5-1.8 cases per million per year in European and Asian populations. Its etiology is not fully understood but exposure to cigarette smoke, hair dyes, hydrocarbon fumes, metallic dust and certain drugs, as well as genetics, increase susceptibility according to the National Institute of Diabetes and Digestive and Kidney Diseases.
Matthew underwent plasmapheresis, which took out the anti-glomerular membrane antibodies attacking his body. But his kidneys were already shot. He goes to dialysis three days a week, for four hours each treatment. He is waiting for a kidney transplant. There was a potential match recently but it fell through.
"He was never woe-is-me even when he got turned away when he had a potential kidney donor," said Marie. "Just being able to pick up the pieces and say, 'Somebody else needed it more than me tonight. Mine's next time,' I think that's been his resilience."
"He hasn't always wanted to go through the fight. He's had some dark days," said Marcus, but he and his other brother Lucas realized how strong their family is.
"It's been four years now. We're a fighting family. We're getting through it," said Lucas.
"Be more proactive in getting yourself checked out. A lot of men, especially single men in their early 20s or 30s, these things sometimes can be detected early in life by simple blood draws and yearly check ups. No matter what age you are, you should always get that yearly check up," said Matthew.
IF CAUGHT EARLY, Goodpasture Syndrome can be treated, according to Dr. Orlando Gutierrez, a nephrologist at the University of Alabama in Birmingham. But by the time patients go to the hospital, the disease is already in a severe stage. "A lot of damage has already been done," he said, because there are few signs and symptoms in the early process. Microscopic hematuria, blood in the urine, is an early sign, which not visible to the naked eye.
"Unfortunately, it is such a rare disease, there is not anything that can be done on a general basis to catch it earlier. Keep in mind family history," he said, and get checked out if a family member has Goodpasture Syndrome.
For some people it only affects the kidneys but both kidneys and lungs can be affected. "People who smoke are more likely to get lung problems on top of the kidney problems," said Gutierrez.