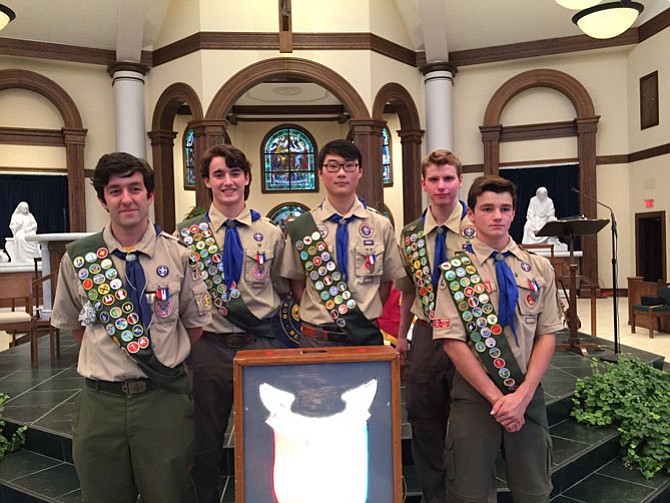 Five new Eagle Scouts were awarded their Eagle medals by Troop 706 of Our Lady of Mercy Catholic Church in Potomac, on Sunday, Oct. 18.
Joseph Blumenauer, Noah Monnig, Christopher Monteferrante, Evan Patterson and Joey Toker received Boy Scout's highest honor, the rank of Eagle, during the Eagle Court of Honor ceremony that included a candlelight procession through the various ranks of scouting on their "Trail to Eagle." Each earned their new rank at various times over the course of the past year and waited until October so they could have their ceremony together.
All five boys joined Boy Scouts while in elementary school. To complete their Eagle Rank, each devoted numerous hours toward his Eagle Scout Project by planning and obtaining approvals for the project and leading teams of Boy Scouts and other volunteers to complete them. Joseph Blumenauer, a freshman at the University of Maryland, constructed a prayer garden at Our Lady of Mercy, using a previously unused area. Noah Monnig, a freshman at the University of Dayton, cleaned, refurbished and landscaped an outdoor religious prayer circle at Our Lady of Bethesda Retreat Center in Bethesda, including building a brick retaining wall, cleaning benches and replacing broken stepping stones. Christopher Monteferrante, a senior at Winston Churchill High School, painted safety strips on over 300 steps at St. Ann's Center for Children, Youth and Families in Silver Spring, which involved stripping, sanding, cleaning and painting each individual step. Evan Patterson, a senior at St. John's College High School, renovated a flagstone patio at Our Lady of Bethesda Retreat Center by replacing almost 50 broken flagstones, planting over 40 boxwoods and resetting the existing water fountain in a patio extension. Joey Toker, a junior at St. Albans School, created an outdoor Stations of the Cross garden at Our Lady of Mercy, using an area that had previously been unused.
Daniel A. Witt, a member of the Executive Board of the National Capital Area Council of the Boy Scouts of America and president of the International Tax and Investment Center, and an Eagle Scout himself, spoke to the boys and the audience about the meaning of the Eagle Scout award and challenged them to give back to Scouting and to live their lives with honor, character and integrity.
Also in attendance at the Court of Honor were Father William Byrne, pastor of Our Lady of Mercy; Father Don Worch of Our Lady of Mercy; Father Christopher Seith of Our Lady of Mercy; and Monsignor Godfrey Mosley of St. Ann's Catholic Church in Washington.