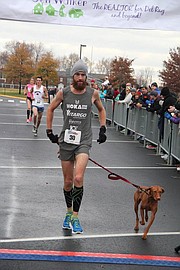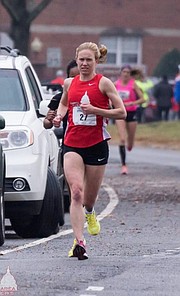 Defending champions Michael Wardian and Susanna Sullivan will return to Del Ray Nov. 26 in an attempt to defend their titles in the 40th anniversary of the Alexandria Turkey Trot. Wardian will again run with Rosie, his 2-year-old Vizsla training partner, in the Doggie and Masters Division.
"We would not want to be anywhere else in the world on Thanksgiving morning," Wardian said in a pre-race interview. "We plan to push the entire race and hope to be nipping at the heels of the other elites in the race, like we did in 2014."
A four-time USATF Ultra Runner of the year, Wardian, 41, has set world records for the fastest marathon and fastest 50K on an indoor 200-meter track. A resident of Arlington, he participated in the 2004, 2008 and 2012 U.S. Olympic Trials Men's Marathon, recording a personal best of 2:17:49.
Sullivan, 25, is the defending women's champion and course record holder of the 5-mile race. She describes the race as "one of her favorites of the year" and will be tough to challenge after having recently set an 8K (4.97 miles) personal best of 25:57.
Following the Alexandria Turkey Trot, she will begin preparation for the 2016 Olympic Team Trials for the marathon, to be held in Los Angeles in February.
Former member of Congress and Del Ray resident Jim Moran will serve as Grand Marshal of the race, which began in 1975 with 244 runners. First place that year went to Jack Mehurin with a time of 25:07.
Presented by the Del Ray Business Association and sponsored by Realtor Jen Walker and Speck Cauldron Investment Group of Wells Fargo Advisors, this year's race will have more than 4,000 runners, including participants in the Doggie and Stroller division, take to the streets of Del Ray with $2,000 in prize money offered to the top finishers.
Registration is still open and can be completed online at www.alexandriaturkeytrot.com or on race day morning at George Washington Middle School on Mount Vernon Avenue.