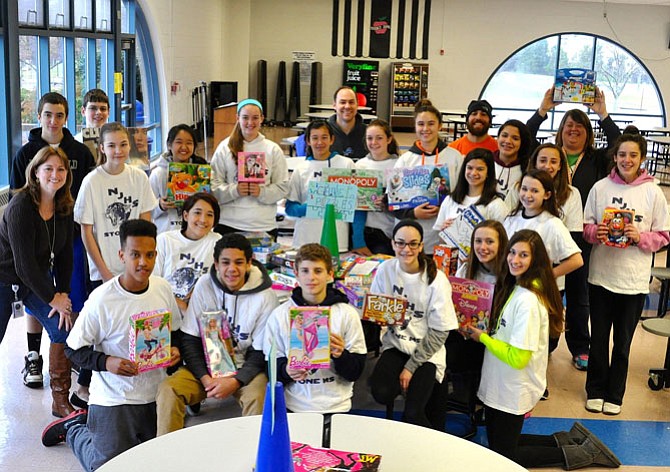 Each year at Christmastime, the nonprofit, all-volunteer organization, Our Neighbor's Child, provides new clothes and toys for families in need in the local area. But the need is so great that ONC can't do it without help from the local community. Below are dates, contact information and ways to lend a hand:
Stone Middle School's National Junior Honor Society will host a "Panther Drop-Off" gift collection at their school, 5500 Sully Park Drive in Centreville, on Saturday, Dec. 5, from 9 a.m.-noon. That's when people may drop off donations of brand-new toys, books, games and clothing.

ONC's Clothing Coordinator, Stephanie Somers, is seeking volunteers to help purchase children's clothing wishes. For more information, email her at Clothing@ourneighborschild.org.

There are also many other ways to help Our Neighbor's Child. To volunteer for any of the needs below, go to www.ourneighborschild.org. At the top of the home page are links to "Calendar," "Volunteer Needs" or "Donate Now."

Volunteers are needed Thursday, Dec. 10, for packaging day. That's when each recipient family's gifts are gathered up and packed in big bags for delivery. And with nearly 800 families receiving gifts, as much help as possible is needed on this critical day. Even if people can just work an hour or two, it will be a huge help.

Some 20,000 homemade cookies will be delivered, along with the gifts, so anyone who can help bake them will be greatly appreciated. Bring cookies in disposable containers, Dec. 10, from noon-4 p.m., to the Virginia Run Community Center, 15355 Wetherburn Court, off Route 29 and Pleasant Valley Road, in Centreville.

Sunday, Dec. 13, from 1-4 p.m. is delivery day. As many drivers as possible are needed to bring all the gifts to the families.

Monetary donations are also vital so the ONC volunteers may buy the wished-for items that weren't selected from the giving trees. That way, no child will go without a gift. Checks may be sent to: Our Neighbor's Child, P.O. Box 276, Centreville, VA 20120, Attn: Karen Moore, Treasurer.