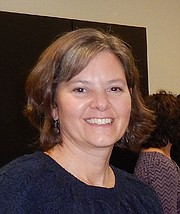 It is tough to be hungry anytime, but especially during the holidays. So Fairfax-based nonprofit Our Daily Bread (ODB) is seeking individuals, families, companies, churches and community groups to sponsor individuals or families for December holiday meals.
Those interested may register at www.ODBFairfax.org. Our Daily Bread's Holiday assistance list includes individuals and families who have been referred because they show demonstrated need and live throughout Fairfax County, including the City of Fairfax.
Also greatly needed are gifts for children under 18, plus corporate sponsorships, cash contributions or donated grocery-store and discount-store gift cards so ODB may distribute assistance to families who are not matched with sponsors. ODB expects to have some 3,000 households on its assistance list this holiday season and is seeking the community's support to help every household on the list.
"All of us at Our Daily Bread are so grateful to our many community partners who are mobilizing to help our families and the hundreds of caring community members who join in this effort each year," said ODB executive director Lisa Whetzel. "In an area where so many of us have so much bounty, people are often surprised to learn that there are people very near us who may struggle to eat at the holidays, let alone provide a small present to their children."
That is why, she explained, "Our Holiday Sponsor-a-Family Program presents a wonderful opportunity for individuals, families, businesses and community groups to give in a very special way during the holiday season. We hope the community will come together to make the season brighter for hardworking families who may otherwise go without holiday meals and presents for their children."
LAST YEAR, ODB's Holiday Program served nearly 3,000 individuals and families. The organization is currently receiving hundreds of applications for assistance and expects to serve approximately the same number of households this year, so help from area residents is particularly critical.
Monetary donations may be made on ODB's web site. Checks and gift cards may be mailed or delivered to Our Daily Bread at 4080 Chain Bridge Road, 2nd Floor, Fairfax, VA 22030. For more information about the Holiday Program, contact Our Daily Bread at 703-273-8829 or hpassist@ODBfairfax.org.
"The Holiday Program is possible because of the support and participation of dozens of community organizations and companies, as well as hundreds of local individuals and families," said ODB spokeswoman Heather Webb. "ODB operates it through a grant from the Fairfax County Department of Neighborhood and Community Services, as well as corporate sponsorships and individual donations. Coordinating closely with social workers and community-based organizations who serve families throughout the county, ODB works to ensure that as many eligible residents in need as possible have access to holiday assistance."
ALL YEAR LONG, Our Daily Bread provides short-term, safety net services for Fairfax County residents and empowers them to work toward long-term self-sufficiency. Besides holiday help, ODB provides qualified clients temporary food and emergency financial assistance, back-to-school help, plus financial education and mentoring services. ODB's Naomi Project offers mentoring services for new or expectant mothers, and its Project BRIDGE program helps selected clients achieve self-sufficiency.