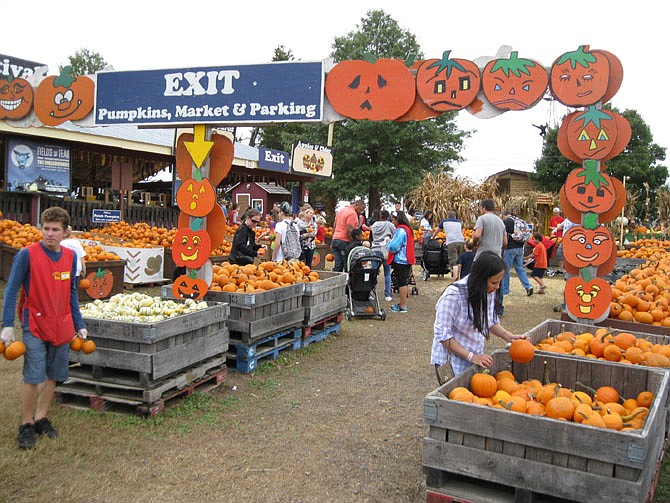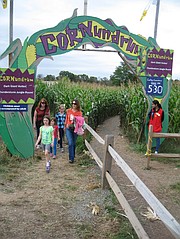 The 43rd annual Fall Festival is now opened at Cox Farms in Centreville and promises to be fun for the entire family. Situated on 90 acres at 15621 Braddock Road, off Pleasant Valley Road in Centreville, the farm has hayrides, baby animals, rope swings, slides, and plenty of fun, especially for little ones.
"It's our favorite time of the year; the weather's been great and it's a great time to run around and play," said owner Gina Cox-Richard.
Some of the new attractions this year include an Imaginature Trail, a walk-through-the woods with fairy tale themes like Goldilocks and information about local wildlife. Another newbie is the last-call tickets, where every weekday in October, tickets are half-priced after 4 p.m., so it's $5 instead of $10 on weekdays only, except for Columbus Day. The Fields of Fear now offers the Back Forty, a scary walk through the backwoods with lots of surprises and monsters.
"The Cornightmare, Zombie Zoo and hayride are better than ever with lots of improvements," said Lucas Cox, co-farmer in chief. "With the addition of the Imaginature Trail, the 2015 Fall Festival is more fun than ever for people of all ages."
Starting Sept. 26-27, the Fall Festival runs daily from 10 a.m.-6 p.m. through Nov. 8 The outdoor activities include live entertainment, a goat village, tunneling through a mountain of hay and a Cornundrum Cornfield Adventure.
At night, Cox Farms is transformed into the 20-acre Fields of Fear for older teens and adults. The spooky nighttime adventure is open Friday and Saturday nights in October, from 7:30-11 p.m. It includes the Vortex, Claustrophobia Crypt, Hall of Whispers, and Back from the Dead Clowns. Fear tickets are $13.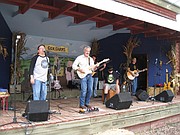 Those brave enough to enter the Fields of Fear are led to the Cornightmare to experience cornfield terrors in the dark. There, they walk through the Hall of Whispers, Bug Room and Claustrophobia, secluded in tall corn with scary creatures. There are also crazed clowns, plus illusions and a new, secret finale to the Cornightmare. Also the Dark Side Hayride Zombie Zoo has 35 zombies.
The Firegrounds is also part of the nighttime events, but it's fun and not frightening. Cox Farms' six-lane slide is open for rides, and people can hang out at giant bonfires, listen to music and roast marshmallows.The Firegrounds and Fear Games include a dark maze, dance party, entertainment, music, a giant slide, Kettle corn, food and much more. Once night falls, however, scary creatures roam free, so the Fields of Fear isn't recommended for children under 12; and anyone under 14 must be accompanied by an adult, 18 or older.
The pumpkin-smashing event, Pumpkin Madness, is slated for Saturday-Sunday, Nov. 7-8, from 10 a.m.-5 p.m. For ticket prices and more information, see www.coxfarms.com.

The hayride lasts 20 minutes and travels by cartoon characters in the cornfield, space aliens, a witches' house, superheroes, cowboys on horseback, a wild-west town and The Black Cauldron Café — the witches' coffee bar. At the end, the hayride travels through a large, enchanted barn filled with music, flashing lights and scenes of wizards, witches and magical plants and creatures. The free, weekend events also include entertainment on the music stage. Live bands perform, and Farmer Jack sings and tells stories while milking his cow, Bingo. Visitors may also enjoy the mining sluice. It's a tower that dumps water into a big, curvy trench where people can pan for fossils, gemstones and arrowheads.
Bunnyville, inside the slide barn, hops into action for its fourth year. A slide comes out of the top of the barn, and the bottom part houses Bunnyville. Children may feed baby goats in the goat village. Alpacas are on the mountain leading up to the dinosaur slide and a couple peacocks roam free. There are also baby chicks,hens and chickens, a llama, turkeys, calves and milking cows, pigs and piglets. Cox added: "We had piglets born yesterday from a first-time mom. They're incredibly cute, squeaking and running around all over the place."
Visitors will also enjoy the five giant slides, straw tunnels and the Cornundrum Cornfield Adventure. The latter features funhouse mirrors, a hall of doors, giant vortex and a pirate ship. Also there is the Great Pyramid with hieroglyphics and some surprises inside.
Food is available for purchase throughout the farm. The selection includes hot dogs, hamburgers, nachos, root beer and root-beer floats. Homesmoked, pulled-pork, barbecue sandwiches are also on the menu, as are chocolate-chip and sugar cookies. Kettle corn is offered, too, plus homemade caramel apples. Fresh cider and apples are free. And if desired, visitors may bring their own lunches (no alcohol) for picnics on the grounds. They may also buy a variety of treats in the farm's market. The goodies include freshly baked apple pies, local apples, kettle corn, apple cider, dessert breads, jams, local honey, Indian corn, squash, gourds and fall decorations. Visitors get to choose a free, patch pumpkin to take home.