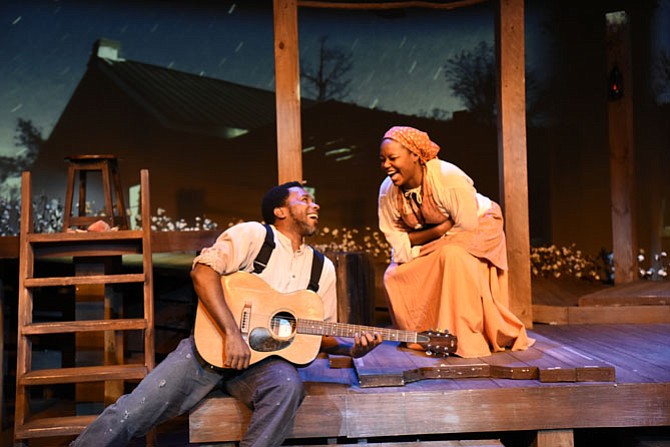 MetroStage in Alexandria will open its 2015-16 season with the premiere of "Uprising" by Atlanta playwright Gabrielle Fulton as part of the Women's Voices Theater Festival, now through Oct 25.
Set in the aftermath of John Brown's Raid on Harper's Ferry, "Uprising" explores self-determination and sacrifice through the lens of a free black community during secession-era America. When Sal discovers Ossie, a hypnotic revolutionary hiding in the field, her life is turned upside down by her strong attraction to him and his revolutionary mission and its impact on her commitment to the well-being of her young son, Freddie. Inspired by the true story of Osborne Perry Anderson, the only African American participant in John Brown's Raid to survive, and the tales of the playwright's cotton-picking great-grandmother, "Uprising" explores notions of freedom and sacrifice, family and community.
"I love the idea of the Women's Voices Theatre Festival," said Producing Artistic Director Carolyn Griffin. "Women playwrights have been seriously underrepresented on our stages and with over 50 theatres presenting over 50 world premieres in the D.C. area alone, it is clear that the festival is already having an impact. So of course MetroStage was going to a part of the festival."
Her director Thomas W. Jones had just workshopped this play in Atlanta so he suggested that she consider it. "Upon reading the script I knew it was a perfect play for MetroStage," she said. "It had strong characters, particularly a strong female character, Sal. It had so many of the qualities that I look for in a play. Excellent character development, great roles for African American artists, a story based on a historical event (John Brown's raid on Harper's Ferry) but a play driven by lots of other personal issues, motivations, relationships."
She added: "It is kind of an epic play for MetroStage, and I am very proud of the production and that it is a part of this Festival celebrating all of the distinctive voices of women playwrights."
The actor Enoch King plays the role of Bo-Jack. "He is a freed slave living in a free slave community in Pennsylvania. He is a hard worker, and has an interest in Sal, played by Cynthia D. Barker," he said. "The physical nature of the show can be a bit challenging. However, I think the main challenge I had was making sure not to approach the characters with a 21st century mentality and understand what freedom, personal and beyond, means for Bo-Jack."
He said he hopes the audience gains a broader understanding of what it means to be free. "What you understand is your definition of freedom, and what are the decisions and choices you would make in your life to have that freedom," he said.
Director and choreographer Thomas W. Jones II has a long history with MetroStage. Jones has written and directed "Harlem Rose," "Three Sistahs," "Two Queens, One Castle," "Bricktop," "Cool Papa's Party," "Pearl Bailey … by request," "Ladies Swing the Blues," and most recently, "Bessie's Blues," as well as directing "Gee's Bend" for which he received a Helen Hayes nomination.
Music Director William Knowles is also a mainstay at MetroStage having music directed "Bessie's Blues," "Gee's Bend" (Helen Hayes Nomination), "Bricktop," "His Eye is on the Sparrow," "All Night Strut," "Ella Fitzgerald: First Lady of Song," and "Cool Papa's Party" (Helen Hayes Award).
MetroStage in Alexandria will present "Uprising" now through Oct. 25, 2015. Show times are Wednesdays through Saturdays at 8 p.m.; matinees on Saturdays and Sundays at 3 p.m.; and Sundays at 7 p.m. Tickets are $55 and $60. The venue is located at 1201 North Royal Street, Alexandria. Call 703-548-9044 or visit www.metrostage.org.