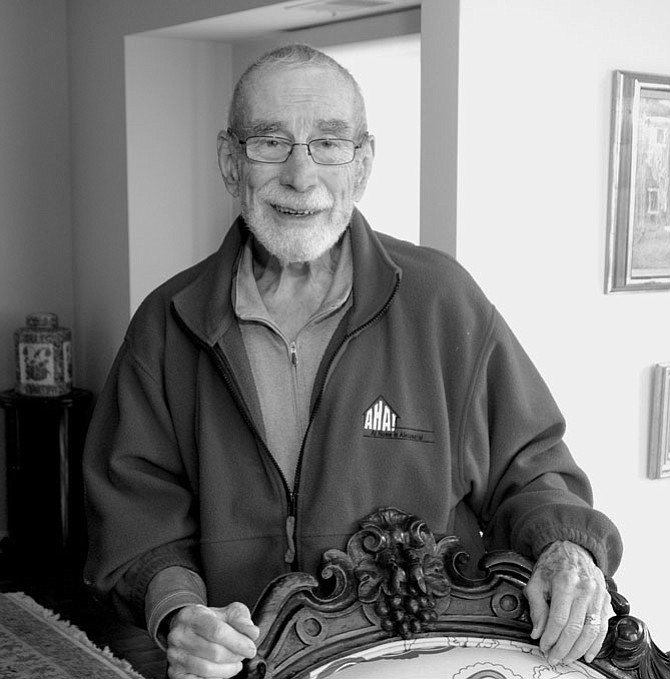 The idea was hatched over breakfast at The Royal Restaurant. In 2008, Dick Moose had just read a news article about an organization in Boston called Beacon Hill Village. He was intrigued by this new "village" concept for seniors and mentioned it to his friend Ernie Lehmann. When Lehmann said he had seen a similar article, the two decided to join forces. It would take three years but in 2011, At Home Alexandria was born.
"I thought right away this would be a good fit for Alexandria," Moose said at the launch of AHA. "I anticipated people would need rides to the doctor, the light bulb replaced, the yard raked. We had a lot of help from a lot of people but we finally got here."
Moose became the first chairman of the board of AHA. Along with co-founders Lehmann and Dr. Judith Jones, he continued to pioneer the "village movement," which helps seniors live independently in their own homes by providing services such as transportation, light maintenance or paperwork assistance to its members.
"The idea took a while to catch on," Moose would say. "There was a time when I used to see somebody with white hair and chase them around with a membership form."
Moose, who was both a volunteer and participant in the programs of AHA, died Sept. 25 after a long struggle with heart problems. He was 83.
"Dick Moose was a leader in helping seniors assist other seniors in Alexandria and beyond," said Jim Lindsay, president of Alexandria-based home care agency ACCfamily. "As a pioneer in the village movement in the region, Dick attended and participated in the Washington Area Village Exchange before any village existed in Virginia. He led the way in laying the groundwork for Alexandria's own village."
Born Feb. 27, 1932, Richard M. Moose grew up in Heber Springs, Ark. He graduated from Hendrix College in 1953 and earned a master's degree from Columbia University before being drafted into the Army.
Upon completion of his military service, Moose began work as a Foreign Service Officer in 1956. Following consular stints in Mexico and Cameroon he worked on the National Security Council as staff secretary until 1970. He then worked on the staff of J. William Fulbright's Senate Foreign Relations Committee.
In 1977, Moose was appointed U.S. Assistant Secretary of State for African Affairs by President Jimmy Carter. He served in that post until 1981. Executive positions with Shearson Lehman and American Express followed before he returned to government service as Under Secretary of State for Management under President Clinton. In 1996, he left the government sector again and ended his professional career at the Council on Foreign Relations.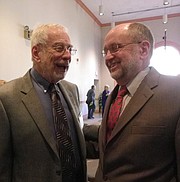 For his commitment and dedication to Alexandria's seniors, Moose was presented with the Annie B. Rose Lifetime Achievement Award from the Alexandria Commission on Aging and was a 2015 Living Legends of Alexandria nominee.
"I know firsthand that you don't have to go very far or get very old to realize how much we need others in our lives," said former state Sen. Patsy Ticer at the AHA launch in 2011. "We are lucky to live in a place where people care about each other and individuals like Dick Moose act on that caring."
Moose is survived by his wife Margaret (Maggie), a daughter, son and four grandchildren.
A memorial service is planned for later this month with a date still to be determined. Donations can be made in his memory to At Home Alexandria, 3139 Mt. Vernon Ave., Alexandria, VA 22305 or online at www.athomeinalexandria.org.
"Dick Moose faithfully navigated endless details and thankless tasks with a smile and a cheerful word to everyone around," Lindsay added. "The citizens of Alexandria will be forever blessed as a result of the efforts of Dick Moose. He will be sorely missed."