Local author Rebecca Glenn will be speaking about her debut novel "Becoming Lisette" at the Great Falls Library on Thursday, Oct. 22 at 7 p.m. The event is free and open to the public. No reservations required. The library address is 9830 Georgetown Pike, Great Falls.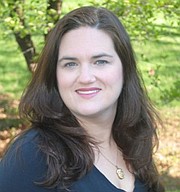 Glenn's novel has already received high praise. The Historical Novel Society said in a recent review, "Rebecca Glenn handles it all smoothly and adroitly, imbuing all her characters, but especially Lisette, with believably realized personalities and giving a very vivid sense of the 18th century art world. I finished it eagerly looking forward to the next volume in the series."
Kristin Clark Taylor, a fellow Great Falls resident and facilitator of the Great Falls Writer's Group said, "Rebecca filled each page, each and every scene, with tone and texture; she took me by the hand and led me straight into that rich period of French history."
"Becoming Lisette" is the story of Élisabeth Vigée, an independent and beautiful young woman, affectionately called Lisette by friends and family. She has progressed in the art of oil painting faster than anyone could have anticipated. Having received instruction from her beloved father, Louis Vigée, a prominent Parisian guild painter, Lisette possesses all the qualities of a brilliant young painter, but is saddled with a singular disadvantage – being a woman. Undeterred, Lisette believes that she can become a painter in Paris. Approaching a marriageable age, her parents have other plans for Lisette, ones that don't include painting. Lisette finds support in Queen Marie-Antoinette and in a dashing art collector and French Army officer named Amante, who is clearly intrigued by her talent and beauty. After Lisette's father dies unexpectedly, her family is left in dire financial straits. Lisette wants to support her family, but before she can sell a single painting, her mother marries a wealthy merchant jeweler named Le Sèvre. Le Sèvre discovers Lisette's artistic abilities and soon has her painting portraits of his noble and wealthy jewelry clientele. It quickly becomes clear that Le Sèvre only wants to control Lisette, leading to severe consequences for her budding career, Amante's pursuit of her affections and even her safety. Lisette realizes that she must find her own way – before it is too late. "Becoming Lisette" is book one of the Queen's Painter Series.
Rebecca is a graduate of Brown University and The University of Chicago. Her experiences organizing art museum exhibitions and teaching college Art History courses motivated her to write historical fiction. She continues to be inspired by the untold stories of women from history. Rebecca lives in Great Falls with her husband and three children.
More information about the author can be found on her website, RebeccaGlenn.com.