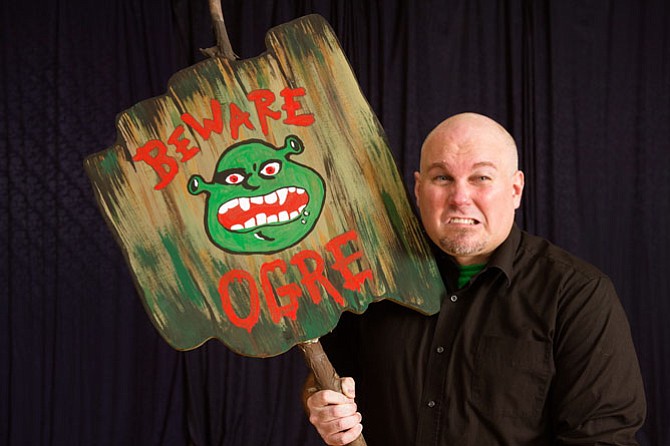 It really is a big, bright beautiful world. And love can surely conquer lots, even if you are a big green ogre named Shrek with some bad habits or a spirited princess named Fiona. Add in tap-dancing rats, a 13-foot-tall magenta dragon, a smooth-talking donkey and fairy-tale characters, all to bring enjoyment at Reston's CenterStage with "Shrek the Musical."
With its music and humor, "Shrek will keep parents just as entertained as the kids who attend," said Sue Pinkman, who is helming the musical for the Reston Community Players (RCP). "The show will grab you and not let go with its joyful nature."
With nearly two dozen pop/rock songs, the Tony award winning "Shrek" has music by Jeanine Tesori with book and lyrics by David Lindsay-Abaire. "Shrek" was adapted from the children's book by William Steig.
Elisa Rosman will lead the 11-member "big brassy sound band propelling the show with its emphasis on embracing the individuality that makes one special." Rosman added, "it is an uplifting story…It has lots of joy in it." Ivan Davila choreographs the high-energy production including the tap-dancing rats.

Where and When
Reston Community Players present "Shrek the Musical" at Reston Community Center Centerstage, 2310 Colts Neck Road, Hunters Woods Village Center, Reston. Performances: Oct. 16-Nov. 7, 2015. Fridays at 8 p.m., Saturdays at 8 p.m. except for Oct. 31. Saturday 2 p.m. matinees on Saturday, Oct. 31 and Nov. 7. Sunday matinees are Oct. 25 and Nov. 1 at 2 p.m. Note: Cast member meet and greets will be held in the lobby on Oct. 25, Nov. 1, and Nov. 7. Tickets: $21-$25. Call CenterStage box office at 703-476-4500 or visit http://www.reston...">www.restonplayers...
RCP's "Shrek" has a spirited cast of over two dozen of all ages. Paul Tonden plays the Shrek character. "I connect with Shrek in the same way I think a lot of people, in that he has body image issues and struggles with a feeling of being 'less than' because he doesn't look like the idealized version of what is 'beautiful' and has to learn that beauty comes from within."
Jolene Vettese plays Fiona. A favorite line of hers from the show: "Well maybe you shouldn't judge people before you get to know them" gets to the heart of the show's message.
Many unseen volunteer designers, builders, painters and technical staff bring "Shrek" to life. At a recent rehearsal, Eileen Mullee, production coordinator/stage manager, provided a tour through the elaborate, colorful set and props from the minds and hands of Skip Gresao, Doug Rolston, Cathy Rieder and Jon Roberts, to name just a few. There will be about 150 costumes from Kathy Dunlop and her team as well as countless wigs by designer Anna Michelle Jackson with make-up by Sally Cusenza.

The opportunity awaits to become a believer in the "Shrek" lyric, "it's time to stop the hiding, let your freak flag fly." RCP president Joshua Redford called it "perfect family entertainment."