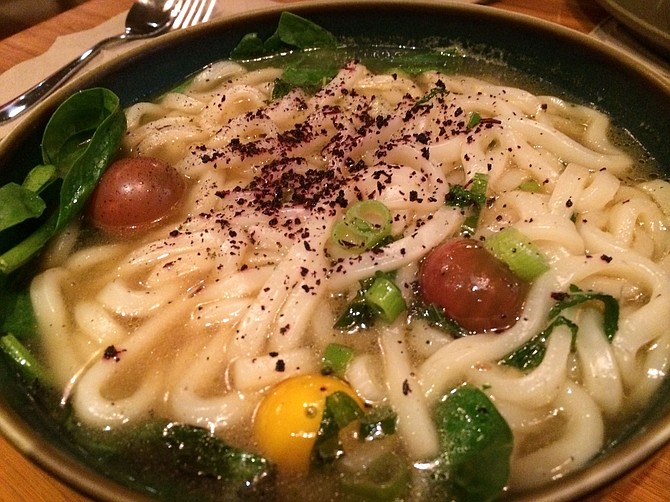 It's a good time to be vegetarian in the United States. Grocery stores are offering more meat analogues, from fish to chicken to even beef tips, and restaurants from here to Kalamazoo are offering more meatless options than ever. And as the nation's vegetarian population continues to grow, even more eateries are following suit in their aim to capture a burgeoning market.
To be sure, the days of suffering through restaurant meals of iceberg wedges and not much else are long gone. Indeed, many restaurants are stepping up to the dinner plate and offering a plethora of vegetarian selections, from tofu stir fries to grandiose veggie bento boxes to meaty no-meat chili. In honor of Vegetarian Awareness Month, which began Oct. 1, here's one of the city's best veg-friendly establishments.
Teaism, 682 N. St. Asaph St.
Michelle Brown has been at this awhile. Now two decades into her stint at the helm of Teaism, a local chain of restaurants and tea houses in the D.C. area, she and co-owner Linda Neumann expanded into Old Town Alexandria more than three years ago, settling into the neighborhood next door to Trader Joe's and opening a calming, welcoming branch of their eatery.
"We were looking to expand, we didn't even think about Old Town until this space came available and we came and looked at it," Brown said. "… This space just spoke to us."
Brown confessed that this Teaism location isn't always a full house — which is a shame, especially when you consider the versatile menu, both food and beverage, the restaurant offers. And though it's currently Vegetarian Awareness Month, Teaism's menu offers many options for vegetarians of all stripes every day of the year.
"We have always tried to do our part in offering multiple vegetarian and vegan items, and really giving people options," Brown said. "… So many of our guests come to us because they want to eat a healthy meal."
Over the years, Teaism has placed a greater emphasis on locally sourced and non-GMO ingredients, and that focus trickles down to its vegetarian items, as well. Take tempeh, for instance —the fermented soybean protein that serves as the foundation for so many vegetarian recipes may not seem to be the easiest product to source close to home, but Brown says her chef has found a way.
"Our tempeh is from Louisa, Va.," from Twin Oaks, she said. "And it's really exciting to find local tempeh. … It has this fresh characteristic that's really lovely."
You'll find that tempeh put to good use in dishes such as the grilled tempeh bento box and a tempeh burger – both of which will bring any diner much delight. And for breakfast, you'll find a tempeh scramble on the menu, which is sure to please vegans far and wide.
Vegetarians and vegans spend a great deal of time scouring restaurant menus for appealing and suitable options, but Brown says that the world is diners' (cruelty-free) oyster at Teaism. Substitutions are encouraged, and the kitchen is happy to remove the meat and add in vegetable proteins wherever diners see fit.
"The menu is so pliant. If you wanted to have the grilled salmon, no salmon, and add tempeh, you could have that," Brown said. "As creative as you can be in owning this restaurant — it's your restaurant, and you can get out of it what you want."
The menu itself has seen an overhaul in recent months and now rotates seasonally based on what's fresh and appropriate to the time of year. The winter menu will be coming out in a month or so, and while many options will remain throughout the seasons, some will swap in and out. Regardless of season, vegetarians will enjoy the fresh ginger broth that steams from a bowl of udon noodle soup, a hearty meal bursting with flavor. Or try the okonomiyaki, a Japanese pancake served with a vegetable kebob.
And anyone, vegetarian or omnivore, will be right at home with the restaurant's tea selection — the cafe is called Teaism, after all.
"Our tea menu is pure teas and classic teas. No focus on scented, no blends, no candy. And sometimes people see that as a limitation," Brown said. "But you know, there are 5,000 different kinds of (subpar) tea out there. We don't want to mess with that. So when you drink with us, you can drink anywhere in the world."
Hope Nelson owns and operates the Kitchen Recessionista blog, located at www.kitchenrecessionista.com. Email her any time at hope@kitchenrecessionista.com.
If You Go
Teaism
Address: 682 N. St. Asaph St., Alexandria
Hours: 9 a.m.-9 p.m. daily; brunch on weekends from 9 a.m.-2:30 p.m.
Try this: "The South Indian vegetable curry," co-owner Michelle Brown said. "People are afraid of it because they don't know what chayote squash is, but to me it's the best squash because it's moist and you can do it a little crunchy. I love it."
Hidden gem: The turmeric onion soup. Brown said: "It's loaded with garlic and ginger and it's sort of like a (French) onion soup without the cheese. The onions in there are so good because they're just so moist and then you get all the healthy benefits of the turmeric and ginger."