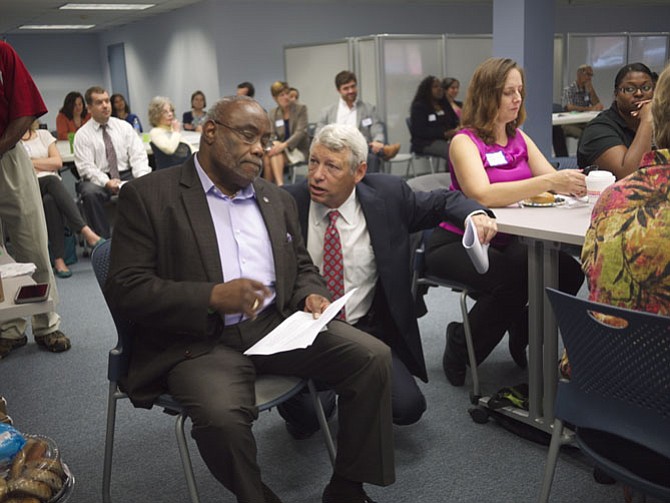 At Alexandria's Partnership for a Healthier Alexandria, many volunteers from many backgrounds gave their time and joined forces to solve problems some Alexandrians did not even know they had. Marian Van Landringham knew, Allen Lomax knew; Arlene Hewitt knew; Mayor Bill Euille knew; Mary Anne Weber knew. The Partnership grew from about 10 people in 2006, to over 1,500 members today.
"Being healthy is more than just going to see a doctor," said Lomax, chair of the Partnership. Taking the health of Alexandrians up a notch began in 2004 with the first needs assessment in Alexandria, and blossomed on Tuesday, Sept. 29, with the community meeting at the Alexandria Department of Community and Human Services. Lomax counted 74 people attending, including 17 walk-ins: 37 percent representing the health sector; 32 percent from youth serving organizations; 24 percent from civic and volunteer groups; 15 percent representing city boards and commissions; and 9 percent from the business community. Some registered as coming from more than one sector. These Alexandrians reviewed the result of 10 years of work and the next steps in achieving health and well-being for all Alexandrians: implementing the Community Health Improvement Plan (CHIP).
In addition to featured speaker Jay Blackwell, director of Capacity Building, Resource Center, Office of Minority Health, U.S. Department of Health and Human Services, Dr. Steve Haering, director, Alexandria Health Department, offered comments about working together, evoking the image of bouncing on a trampoline and going twice as high when the other guy gets on the canvas.
Euille surprised attendees with his announcement of a free health clinic for the medically uninsured, sponsored by the City of Alexandria for its residents, to take place on Nov. 14 at the Hammond Middle School. Euille, who has been supporting the Partnership for Health since its inception, said the clinic was the result of many planning meetings and that the city would work with the faith-based community to offer a day-long free clinic, during which health screening would be done by volunteer nurses and doctors.
Blackwell, an expert in public health programming and community advocacy, spoke about community participation, noting how impressed he was with the Partnership and the inclusive nature of its membership. "Usually, I come in when something is broken, and then I have to fix it; but that is not the case here," Blackwell said.
Of the eight workshops, most volunteers gravitated to the Healthy Eating and Active Living table, or the Teen Wellness table, but only two went to the Clean and Smoke Free Air table (which currently has no chair person) and HIV/AIDS Prevention tables.
"That's surprising," said Gerald Padmore, outreach coordinator for the Juniper Program at INOVA , and Lisette Torres, of the Alexandria city government, since the HIV/AIDS rate has risen in Northern Virginia in the past year. Both Partnership members talked about the need to educate the young and make sure the uninsured have access to health services and testing. Both see a need for more specific education in schools, to teach kids how to negotiate condom use. They decried the lack of public awareness: HIV/AIDS is not less of a threat now than it was, syphilis and other sexually transmitted diseases are on the rise, and AIDS is affecting African-Americans and Hispanic populations disproportionately. The statistics show HIV infections are going up among younger people and African American men and women, and Latinos, while declining among white men and women. A large part of the reason, according to Padmore and Torres, is the health equity issue. People without access to health care don't know what they need to know about disease.
Dr. Tarleen Singh, deputy director of the Alexandria Health Department, closed the meeting with a plea for greater health equity in Alexandria.
See healthieralexandria@alexandriava.gov for more information.