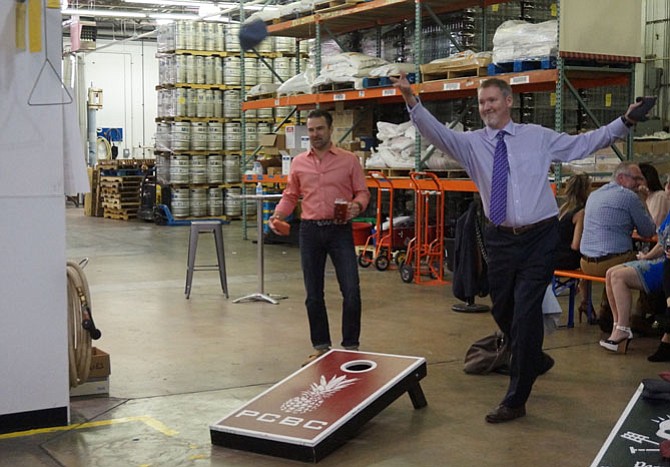 See more RTA fundraiser photos on Facebook.
A competitive cornhole tournament helped "raise the roof" as Rebuilding Together Alexandria held its annual fundraiser Sept. 24 at Port City Brewing.
"Since our last event last fall, more than 1,000 volunteers worked on 116 homes and no profit facilities throughout the city," said RTA executive director Katharine Dixon. "By improving housing conditions and community spaces, we hope these residents remain active members of their neighborhoods and in turn help Alexandria remain economically, socially and culturally diverse."
More than 180 people turned out for the BBQ-themed event as the organization honored community volunteers and partners.
Eric Weiss was honored as Volunteer of the Year for his 10 years of service as Westminster Presbyterian's team captain for Rebuilding Day and Energize Alexandria.
The Lifetime Achievement Award went to Jeffrey Feller, a Booz Allen Hamilton employee with more than 13 years of volunteer service.
Fannie Mae was recognized as Philanthropic Organization of the Year with Jennyfer Lee and Gina West accepting the award on behalf of the company.
"It is a privilege to honor Fannie Mae and these individuals," Dixon said. "They set wonderful examples for all of us. We couldn't do it without them or without the support of everyone here."
For more information, visit www.rebuildingtogetheralex.org.